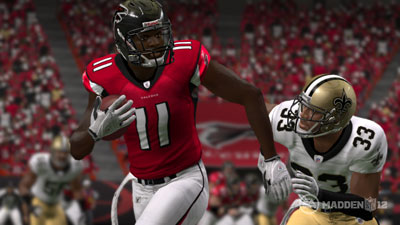 Donald Brown
Entering his fourth season in the league, running back Donald Brown is set for a breakout year. When drafted back in 2009 the Colts had high hopes of him taking Joseph Addai's starting job, but like so many other rookies coming into the NFL the learning curve proved too tough for the young Connecticut graduate. Now, with a new regime in Indy and the starting role all locked up, look for Brown to take his game to the next level as the Colts rebuild.
Eric Decker
This third year wide receiver is coming off a strong sophomore performance but look for him to eclipse those 2011 numbers with quarterback Peyton Manning under center. If he can snag eight touchdowns with Tim Tebow throwing him the pigskin, just imagine what he can do with arguably one of the best quarterbacks of all time. He has the size to line up anywhere and more importantly the fearlessness to go over the middle.
Julio Jones
The Atlanta Falcons traded the farm for this 6'3'' Alabama prospect in the 2011 draft. Many skeptics laughed at the thought that one receiver would take the dirty birds to the next level. While Jones showed signs of greatness, the team fell short as they were a complete no show in their 2-24 playoff loss to the New York football Giants. With a season behind him and a very strong training camp, look for Julio to put up numbers this year that will quiet any critics.
Nick Fairley
After what looked like an absolute steal with the 13th overall pick in last years draft, defensive tackle Nick Fairley has done nothing to help his young career since. It started with an injury that kept him out most of last season and after multiple run-ins with the law this offseason Fairley has no choice but to prove his worth on the field. With one of the strongest defensive lines in the league, look for Mr. Fairley to put up big numbers this season. Defensive Coordinator Gunther Cunningham has spoke of his new "Grey" package that will put both Fairley and Suh at the defensive end positions. Look out for big number 98.
Matt Flynn
Although it is not yet writ in stone that he will even be the Seattle Seahawks starting quarterback come September 9th, Matt Flynn has all the tools necessary in becoming the next big thing. Coming from the Green Bay roster where every great quarterback seems to come from, Flynn showed his worth in a single outing last season against the Lions where he went 31 of 44, six touchdowns and a single interception. Now in Seattle with plenty of offensive weapons look for Flynn to break the mold of big free agent acquisitions that never work out.
Which players do you think will have a breakout season this year?  Which don't belong on this list?  Let us know in the comments section.
Article written by Madden-School staff writer, layinWOOD.