Hard to believe we're this deep into the season. It's an opportune time to discuss sleepers. Players, teams, plays and more can all be considered a sleeper when meeting certain criteria. Today, the pros at Madden School are challenging you to take a chance playing with one of our sleeper teams. Here are a few of our sleeper teams to consider using in Madden 19 Online H2H Matches.
Online and other competitive Madden players need to know about any of the teams flying under the radar. The key is to find teams with talent in certain and key areas, such as QB, RB, WR, DE and other pass rushers or playmaking TE's..When playing online H2H games, you're usually seeing many of the same teams so it can catch you by surprise to come across one of the lesser rated teams. Here are a few teams that players seemingly forgot existed in Madden 19.  
Cowboys
Cowboys are on a roll lately and their defense is playing lights out football. The Cowboys have one of the best front sevens in the game with Sean Lee at ROLB, Demarcus Lawrence at DE and Jaylon Smith at MLB. Couple that stingy front seven with the Dallas running game featuring Zeke Elliott, and the Cowboys must be considered a threat.
They also traded for Amari Cooper to go with Cole Beasley, a nice slot WR, and their QB Dak Prescott is mobile enough to make opposing defenses respect his ability to take off and run with the ball or make plays out of the pocket. There are a lot of different ways you can utilize Dallas's talent, and these are just a few.
Lions
The Lions are truly a middle of the pack team in Madden 19. Their talent is decent across the board as they feature players rated at least in the low 80's at nearly every important position. QB Matt Stafford is rated an 83 overall, and he has some nice options to throw to in his WR corps. WR Kenny Golladay is rated an 84 overall and, when he comes back healthy, WR Marvin Jones is rated a very respectable 87 overall.
Factor in the three headed RB attack with Kerryon Johnson, LeGarrette Blount and Theo Riddick, and Detroit provides some options for attacking your opponents defense. Speaking of defense, the Lions traded for DT Damon "Snacks" Harrison before the trade deadline to go with speed rusher RE Ziggy Ansah and rookie standout Da'Shawn Hand at LE. Add Darius Slay to the mix at CB, and the Detroit defense has all the playmakers you need to go out and snag a victory from your opponent.
Browns
It truly feels like the Cleveland Browns make at least one of our sleeper lists every season, but this year we're the most confident we've been in the Browns. QB Baker Mayfield is rated a lofty 82 overall and he has a few weapons around him too. RB's Nick Chubb and Duke Johnson provide a solid dual headed running attack while WR Jarvis Landry and TE David Njoku give you some options in the passing game.
The secret to playing with the Browns, however, is that defense starting up front with RE Myles Garrett at a 92 overall. His counterpart at LE, Ogbah is rated an 80 overall and he can rush the passer plus run down the ball carrier on any of those pesky stretch or toss plays to his side. Consider CB Denzel Ward, FS Damarious Randall and SS Jabrill Peppers in the Browns secondary and their defense is optimal for holding and playing with a lead.
Titans
Hard to say the Titans are a sleeper team after Thursday night's game against the Jaguars where RB Derrick Henry posted over 200 rushing yards and 4 TD's, but you don't really come across this team that much during online H2H gameplay.
QB Marcus Mariota is rated a favorably 82 overall with a whopping 88 SPD and 90 ACC rating. That makes him dangerous without any throwing accolades. RB's Derrick Henry and Dion Lewis are both rated over 85 overall and the two complement one another perfectly. Toss Mariota's running ability into the frey and the Titans rushing attack is something to worry about. What makes them even more difficult is their offensive line. Each starter is rated at least above a 75 overall, and their two tackles are big run blockers.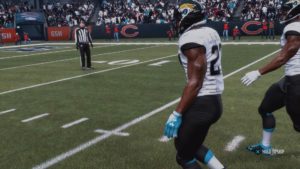 The Titans do leave something to be desired at WR as Corey Davis is pretty much their only real threat, but Taywan Taylor does have some speed to his game with a 92 SPD rating and a 94 ACC. If TE Delanie Walker were healthy, this offense would be one of the most dynamic in the entire game.
On defense, RE Jurrell Casey headlines the front seven with an 89 overall rating. There are also three CB's on the Titans defense who are rated 81 and above to go with their top FS, Kevin Byard at a 89, and their solid SS Kenny Vaccaro at an 83. Clearly, the Titans are a team with some talent and should be considered a sleeper for the time being.
Those are our sleeper teams to consider using in Madden 19 H2H online mode. See any that we may have missed? There are other worthy teams without a doubt. The Dolphins, the Jaguars and other teams like Washington barely missed our cut, mostly due to injuries or a severe drop in ratings to their key players.Nonetheless, share your thoughts with the Madden School community below.
As always, be sure register for your Madden School Unlimited Membership today! You'll gain instant access to every single one of our professionally written and developed ebooks, instantly improving your Madden skills. Register today and start schooling the competition tonight.