A new play is coming to Madden 20! Fresh off a Super Bowl win, Chiefs wide receiver Tyreek Hill requested that Madden add a play that the Kansas City Chiefs love to run.
In fact, this very play resulted in a 44 yard gain against the 49ers in the Super Bowl and was the Chiefs' first big play of the night.
One of the big focuses of Madden 20 is adding in plays and formations that teams are actually running on Sundays.
It looks like the play below will be in Madden 20 very soon although we don't yet have an exact date.
The play is found in the Gun Trey Y-Flex Wk and is called Jet Chip Wasp.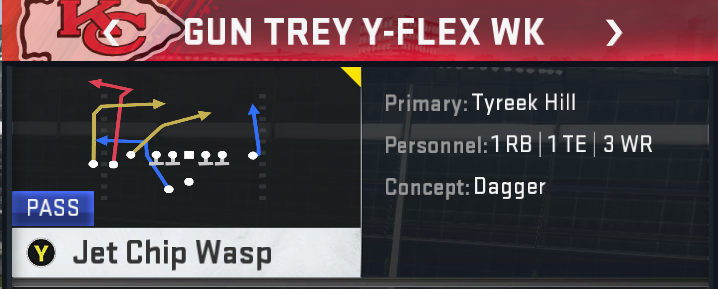 The Twitter conversation below shows how this all came together relatively quickly.
Coming soon to #Madden20…

Jet Chip Wasp ? https://t.co/iRuVDbAf0z pic.twitter.com/agyYuRlZ4R

— Madden NFL 20 (@EAMaddenNFL) February 7, 2020
Any time a new route is added to Madden, hardcore players rejoice.
What other plays and formations would you like to see added to Madden 20? Let us know in the comments section!