When you quicksell the majority of cards in Madden 24 Ultimate Team, you get training points but there are a few special platinum cards that when you quicksell them you get coins instead.
Note: You can find the normal MUT 24 quicksell training values here.
Platinum cards have overall ratings from 78 to 86 overall. The higher the rating, the more coins you get by quickselling them.
In Madden 24, you can tell you've pulled a platinum card by looking at the bottom right side of card art. There will be gold coins on it if you did. Here is what that looks like: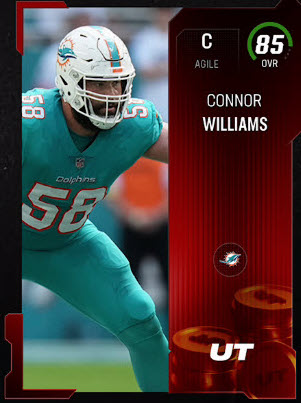 On the low end you only get 6,000 coins for a 78 overall but on the high end you get 225,000 coins by pulling an 86 overall.
You can use the table below to determine how many coins you will get when you quicksell your platinum MUT 24 cards:
78 Overall – 6,000 Coins
79 Overall – 9,000 Coins
80 Overall – 14,000 Coins
81 Overall – 23,000 Coins
82 Overall – 36,000 Coins
83 Overall – 57,000 Coins
84 Overall – 90,000 Coins
85 Overall – 143,000 Coins
86 Overall – 225,000 Coins
You can see how much more valuable the higher overall cards are than the lower cards. Pulling just 1 platinum 85 overall card is worth more than pulling 10 platinum cards that are 80 overall.
Good luck!
Madden 24 is the year that you take your game to the next level! Join Madden School Unlimited today and get all our best Madden 24 ebooks, strategy guides, tools, and plays!