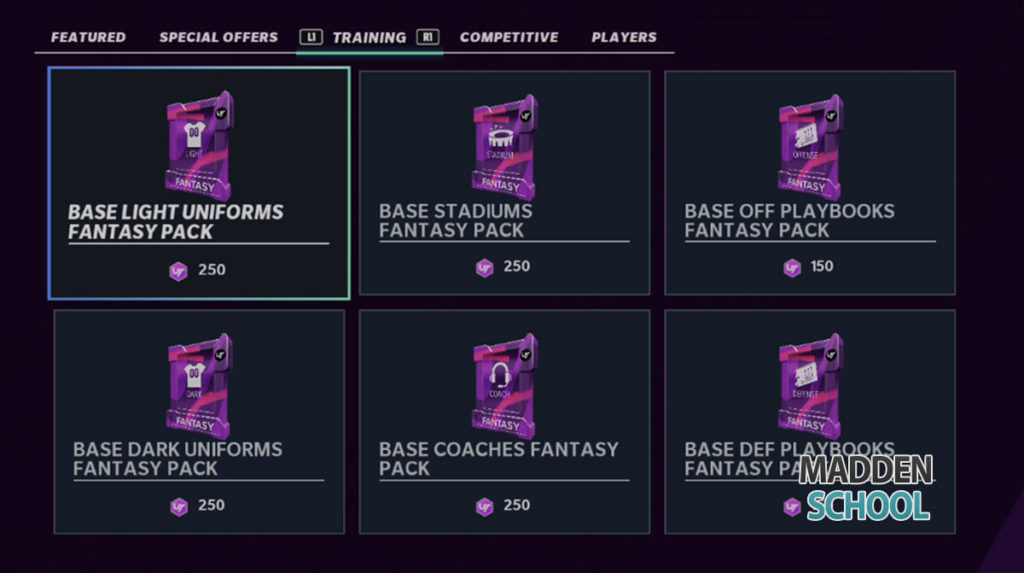 One of the keys to building a successful Madden 21 Ultimate team is getting training for the cheapest amount of coins possible. Right now is an excellent time to turn coins into training points.
Training can help you power up players, equip players with superstar abilities, or buy various playbooks and uniforms.
If you find yourself in a position to turn some of your Madden 21 coins into training, you will want to use the values below and make some calculations so you can maximize the training you get.
These training values are the same for Madden 21 on all platforms so it doesn't matter whether you are playing on PlayStation 4, XBOX One, PC, PlayStation 5, or XBOX Series X/S.
Below you will find how much training you get when you quicksell a player based on their overall rating.
The prices on the auction house for these players can and do fluctuate wildly so you will want to get out your calculator and figure out what cards you need to buy on the auction house.
62-65 Overall – 6 Training
66-69 Overall – 8 Training
70 Overall – 11 Training
71 Overall – 13 Training
72 Overall – 16 Training
73 Overall – 19 Training
74 Overall – 24 Training
75 Overall – 29 Training
76 Overall – 34 Training
77 Overall – 42 Training
78 Overall – 51 Training
79 Overall – 61 Training
80 Overall – 160 Training
81 Overall – 230 Training
82 Overall – 320 Training
83 Overall – 450 Training
84 Overall – 640 Training
85 Overall – 900 Training
86 Overall – 1300 Training
87 Overall – 1800 Training
88 Overall – 2500 Training
89 Overall – 3600 Training
90 Overall – 5000 Training
91 Overall – 7100 Training
92 Overall – 10000 Training
93 Overall – 14100 Training
94 Overall – 19900 Training
Remember, when buying cards on the auction house you want to pay the lowest amount of coins for each point of training you get.
Just divide the amount of coins it will cost you for any given overall card by the value of how much training you will get by quickselling that card to see what the best card is to buy to turn into training.
As of this posting, the price for training points is as low as it has ever been in Madden 21 so if you plan on powering up players, now may be a great time to do it.
Interested in Madden 21 Ultimate Team Coin Card Quicksell Values? Check them out here.
Absolutely dominate the entire Madden 21 year for less than the price of a bundle, join our Madden School Unlimited membership today!