Madden, just like the NFL, is all about creating mismatches. In today's free Madden 20 tip, we are going over a way to sub any defensive back in the game into your offense.
For the most part, this is just more of a novelty but there are some sitatuations and game modes where being able to get a cornerback on offense becomes really useful.
Unfortunately, this can only be done when using the Run and Shoot playbook which means that you won't be able to do this trick using custom playbooks.
All you have to do is to choose the Run and Shoot playbook at the play selection screen, scroll over to Gun Flanker Close, and then use the "CB Slot" package.
The video below will dive into it in more detail.
This type of substitution can be incredibly effective in game modes such as Salary Cap in Madden Ultimate Team.
You can go out and get a playmaking cornerback and substitute him in on offense every play.
By doing this, you will free up a huge amount of cap space to use at other positions as well as getting a playmaker on the field.
There are plenty of examples of fast/playmaking cornerbacks but the one we will use is a recent Deion Sanders card.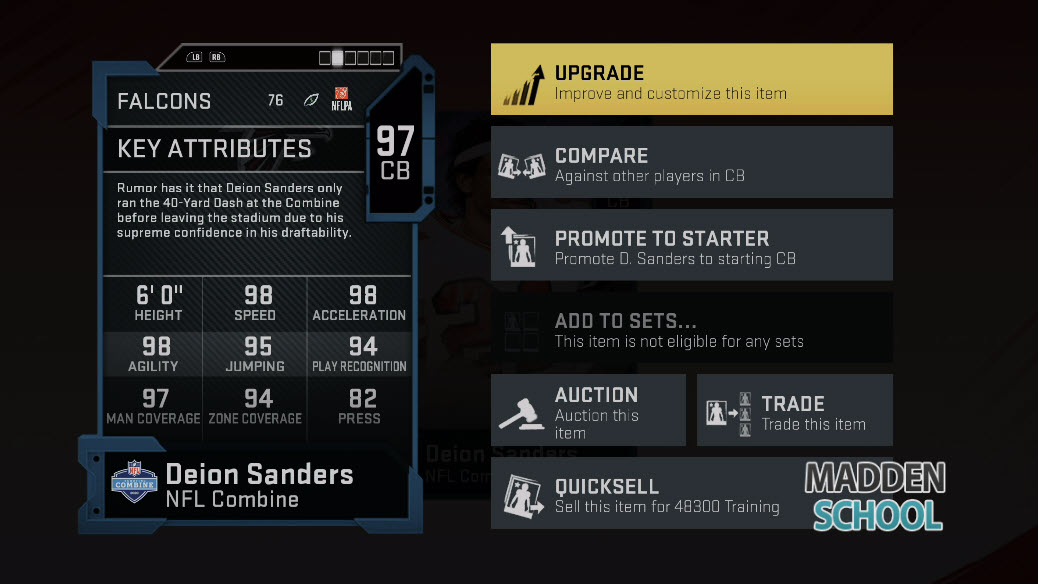 This is what his attributes look like. Wouldn't you want a player with 98 speed, 98 acceleration, 98 agility, and 95 jump on your offense?
He also has 84 catch, 82 spec catch, 97 elusiveness, 96 ball carrier vision, 96 juke, 94 break tackle, 92 spin, and 86 deep route running.
You should also keep in mind that in Ultimate Team, you can equip him with abilities like Juke Box or Spin Cycle and they will be active even when he is on offense.
Speaking of Deion Sanders, we are giving away the 97 Deion Sanders card we showed above to a random follower on our Twitter and Facebook pages so if you aren't already following our social media channels, you may want to.
It works the same way if you have a stud cornerback in franchise mode as well. You want to get your playmakers on the field however you can.
Another benefit of putting a cornerback at wide receiver is that if he is an X-Factor and gets an interception, his X Factor is active on offense as well.
This can sometimes lead to great catches but more practically, it is great to use as a decoy. Most people you play against will see a lit up X Factor and really focus on making sure you don't throw to him.
As long as your cornerback doesn't get knocked out of the zone and lose his X-Factor ability while on defense, he will keep his X-Factor active on offense. You can throw to him repeatedly or never target him on offense but either way, his X-Factor will stay lit up.
Please keep in kind that when you have a cornerback subbed in on offense, he may drop more passes than a normal wide receiver. As long as you don't expect perfection, you should be very pleased with the results!