This year we heavily invested in building new tools that helps make things easier for Madden gamers. One of our biggest priorities was building out resources for playbooks in Madden 21.
We did this by creating 3 playbook tools all with different fuctions and features.
In this post, we are going to go over each one and show you how you can use each to save time.
We'll first start out with our basic Madden 21 playbook database.
This resource is best used if you just want to explore the different plays in any team or specialty playbook.
For example if you are in the phase of trying to find a new playbook (whether it is on offense or defense) and have some ideas about which playbooks you might like best, you can browse through all of the formations, sets, and plays in each playbook.
You start out by click on the team's playbook you want to view like in the image below.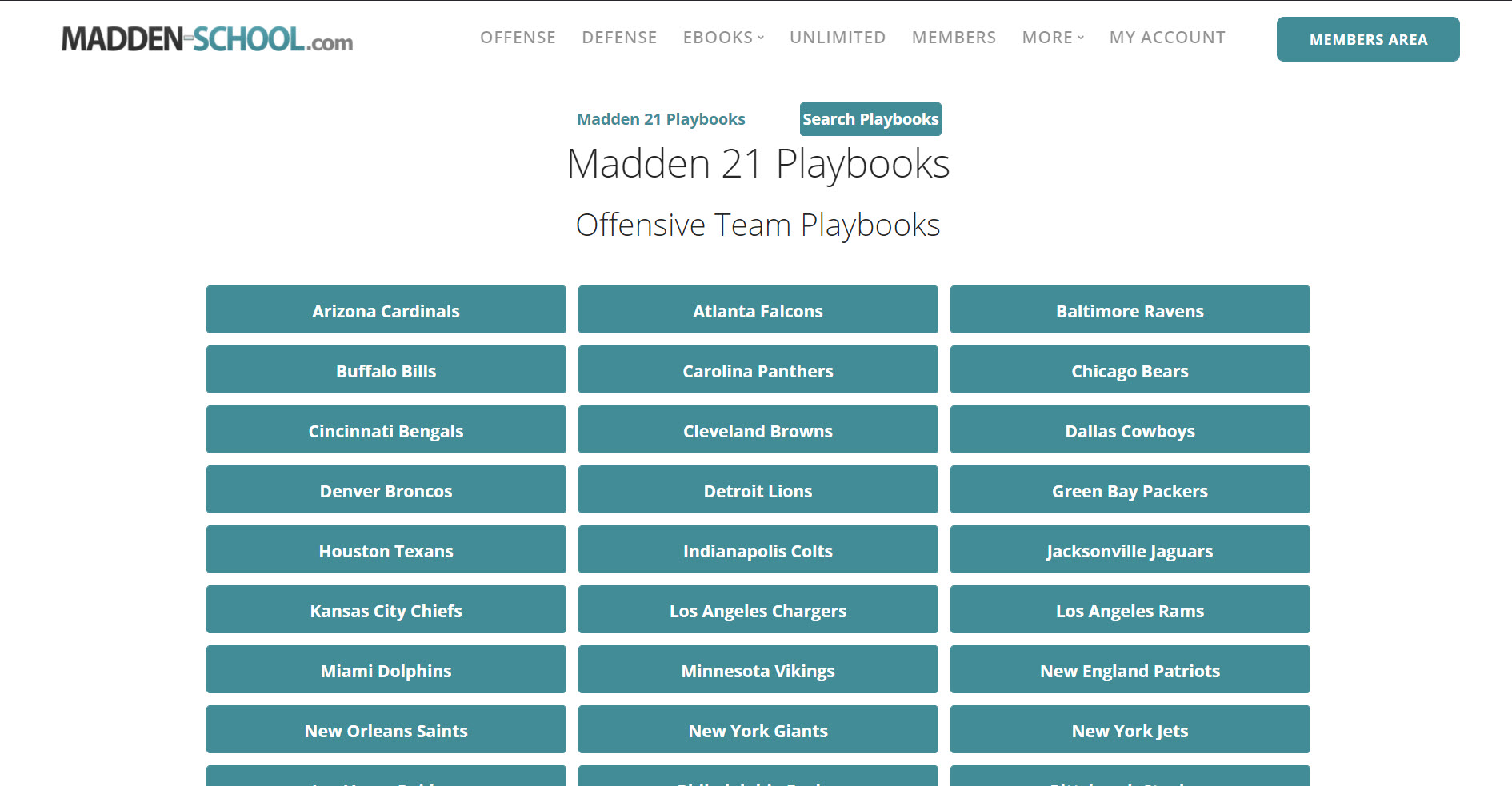 And then you are taken to a page with all of the different formations.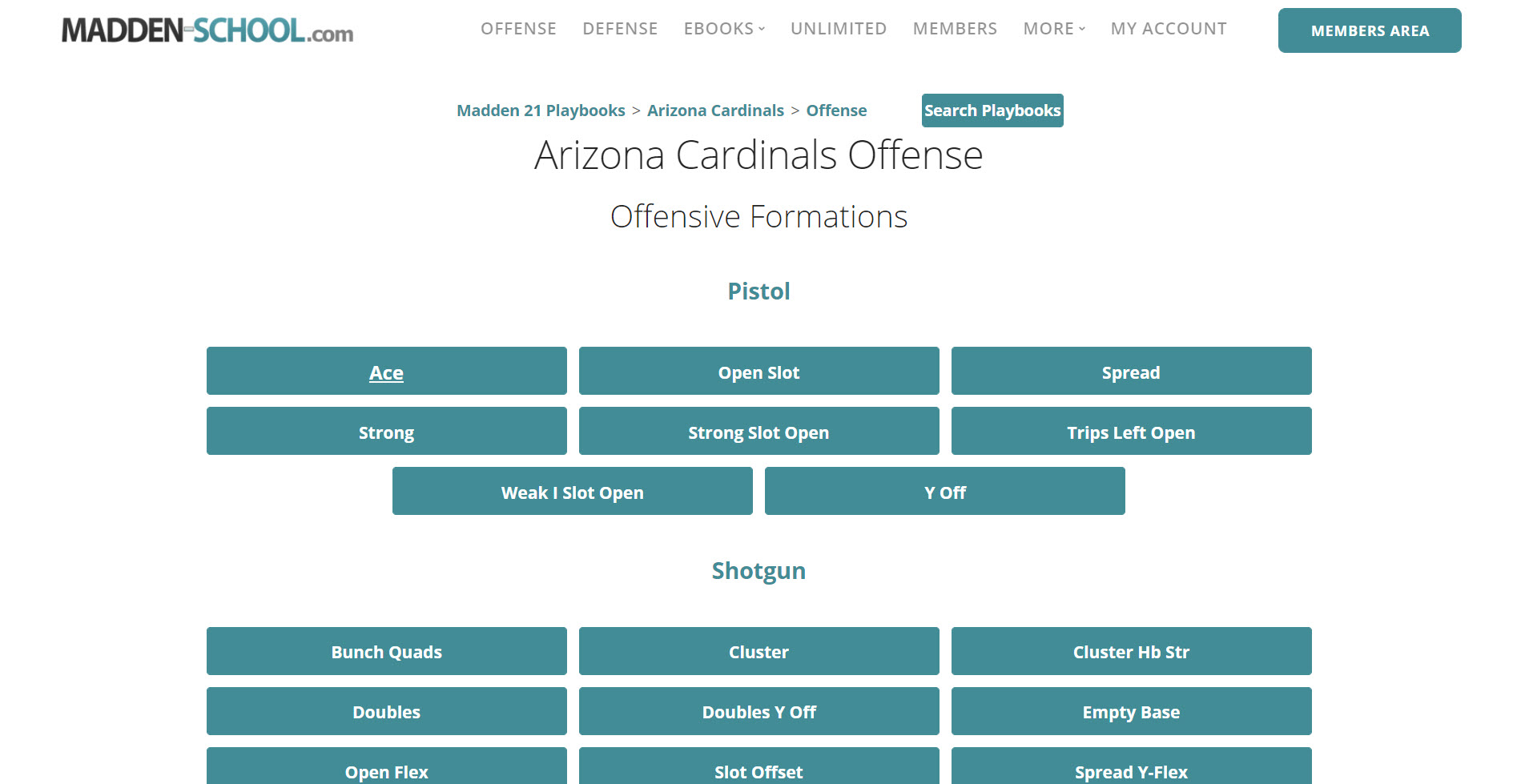 You then click on the formation you want to view and you are presented with the plays from that formation.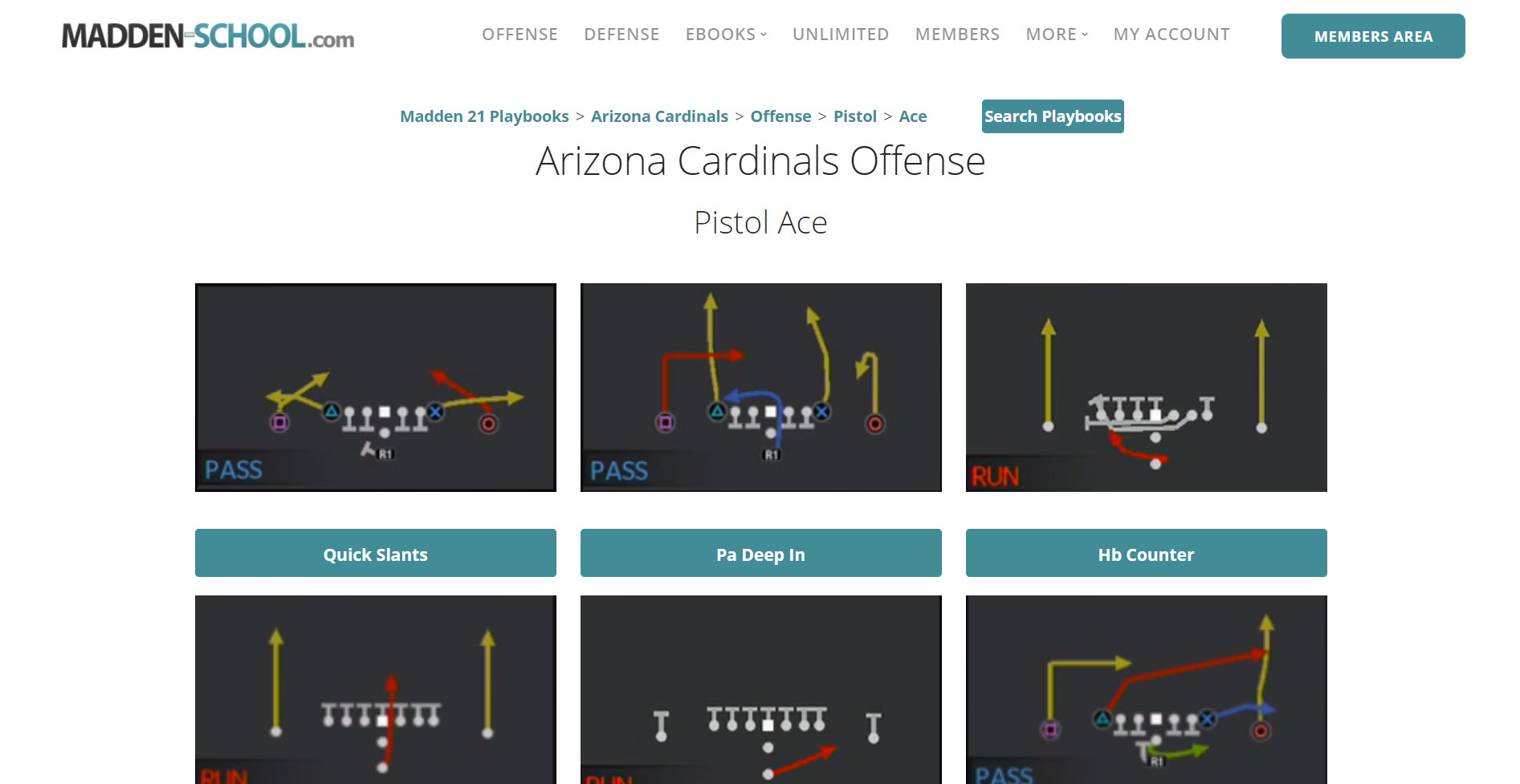 At the bottom of both the formation and individual play pages, you are shown which other playbooks in Madden 21 have that specific formation or that specific play.
Here's a screenshot of what that looks like.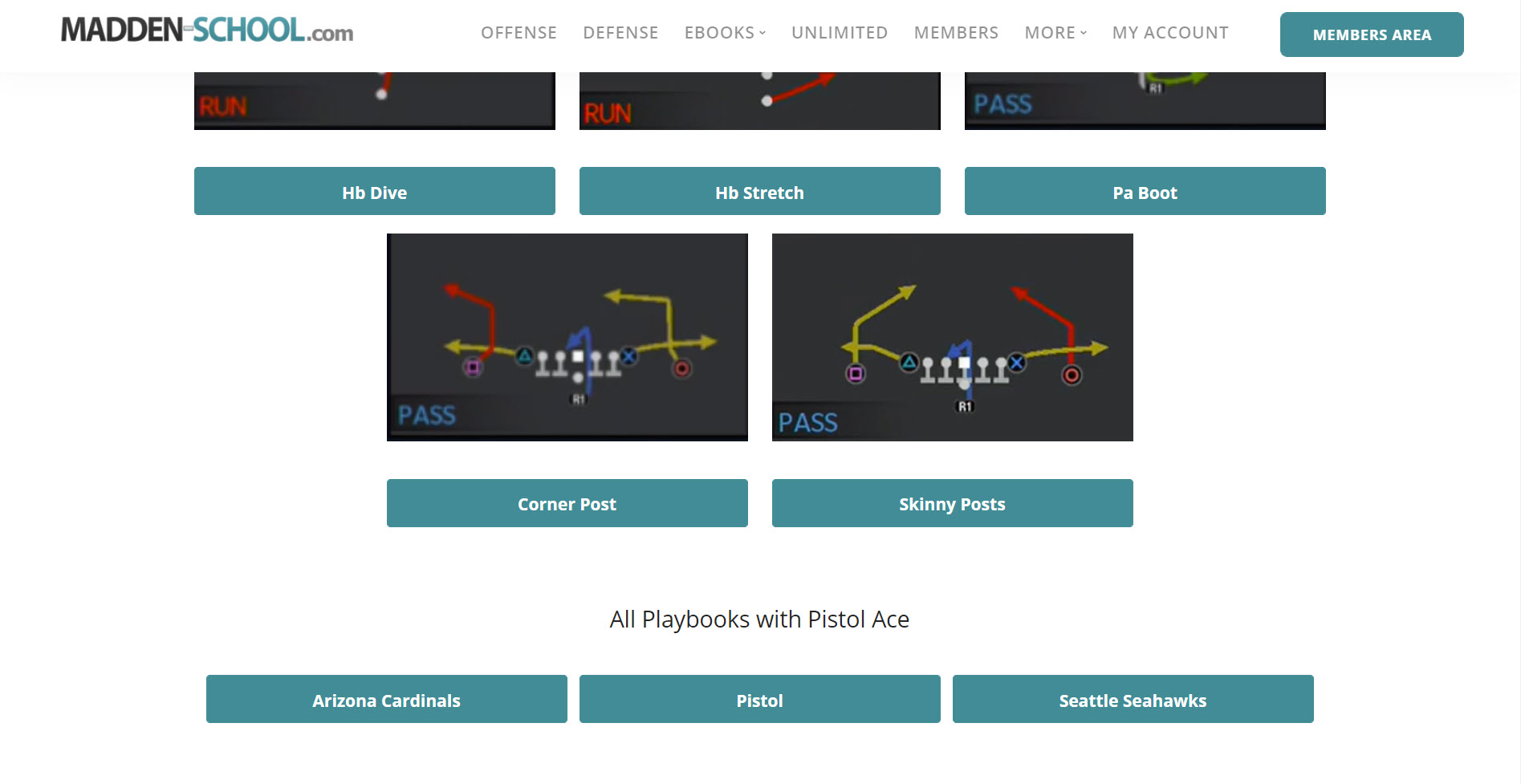 You can see for that formation, Pistol Ace, you will need to choose either the Arizona Cardinals playbook, The Seattle Seahawks playbook, or the Pistol playbook.
This can be really helpful as a starting resource but eventually, you may want to move onto our Madden 21 Playbook Finder tool.
The Madden School playbook finder tool is a much more advanced tool that is incredibly helpful for players who use custom playbooks as well players who just want to find the perfect playbook for them.
The playbook finder tool allows you to add as many formations/plays as you want and see which playbooks have them. You can easily add or remove plays and be told in real time which playbooks have the plays you want.
It also allows you to view all of the plays by formation instead of by playbook like in our 1st tool. This is incredibly helpful for custom playbooks since you can now see every play in the game from for example, Shotgun Doubles, instead of just the plays in Shotgun Doubles from a specific team's playbook.
Below, we are going to walk you through how to use this tool.
When you go to the tool, you have to choose whether you want to search for offensive or defensive playbooks.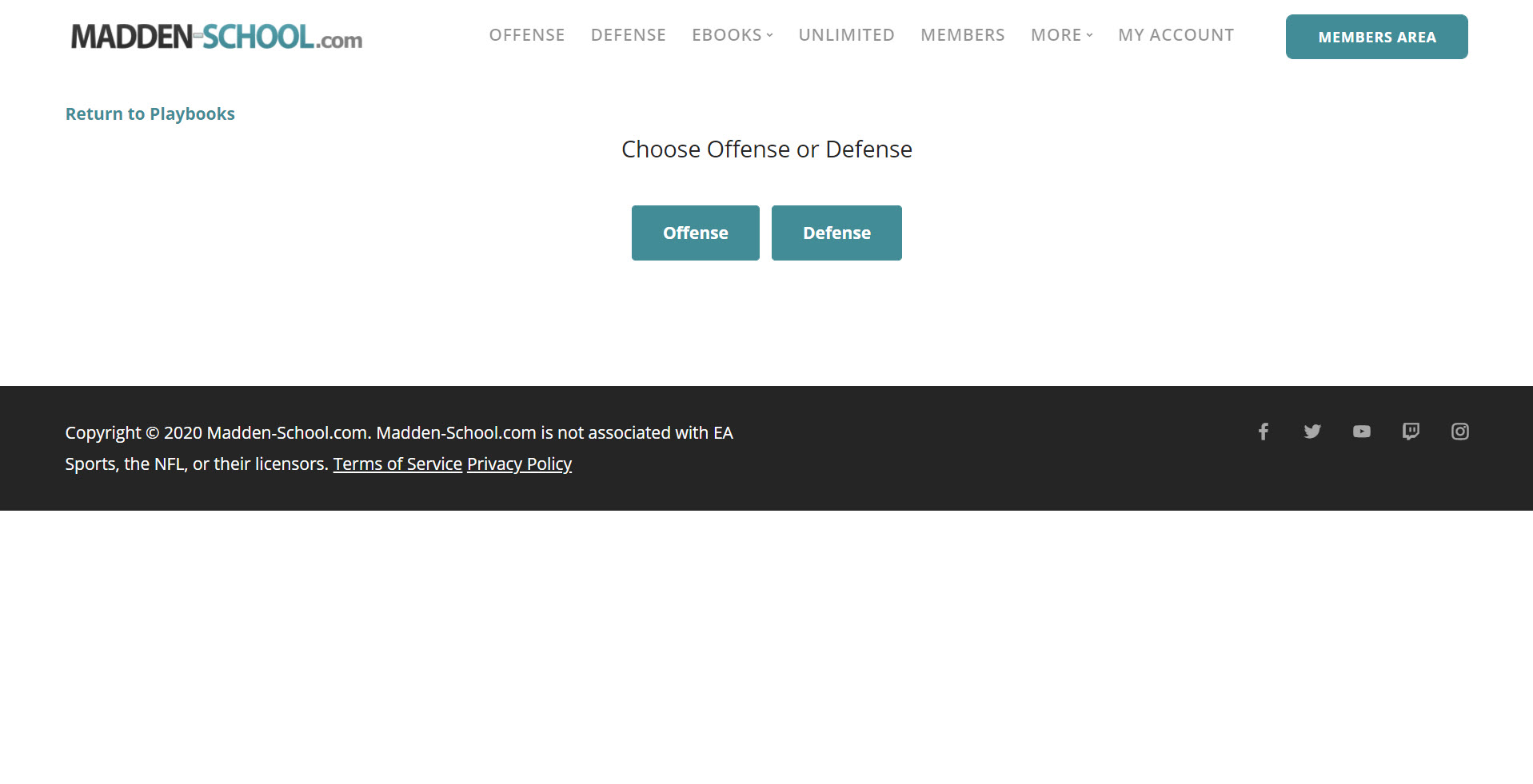 We'll choose offense for the purpose of this walkthrough.
You are then presented with all of the different formations in the game.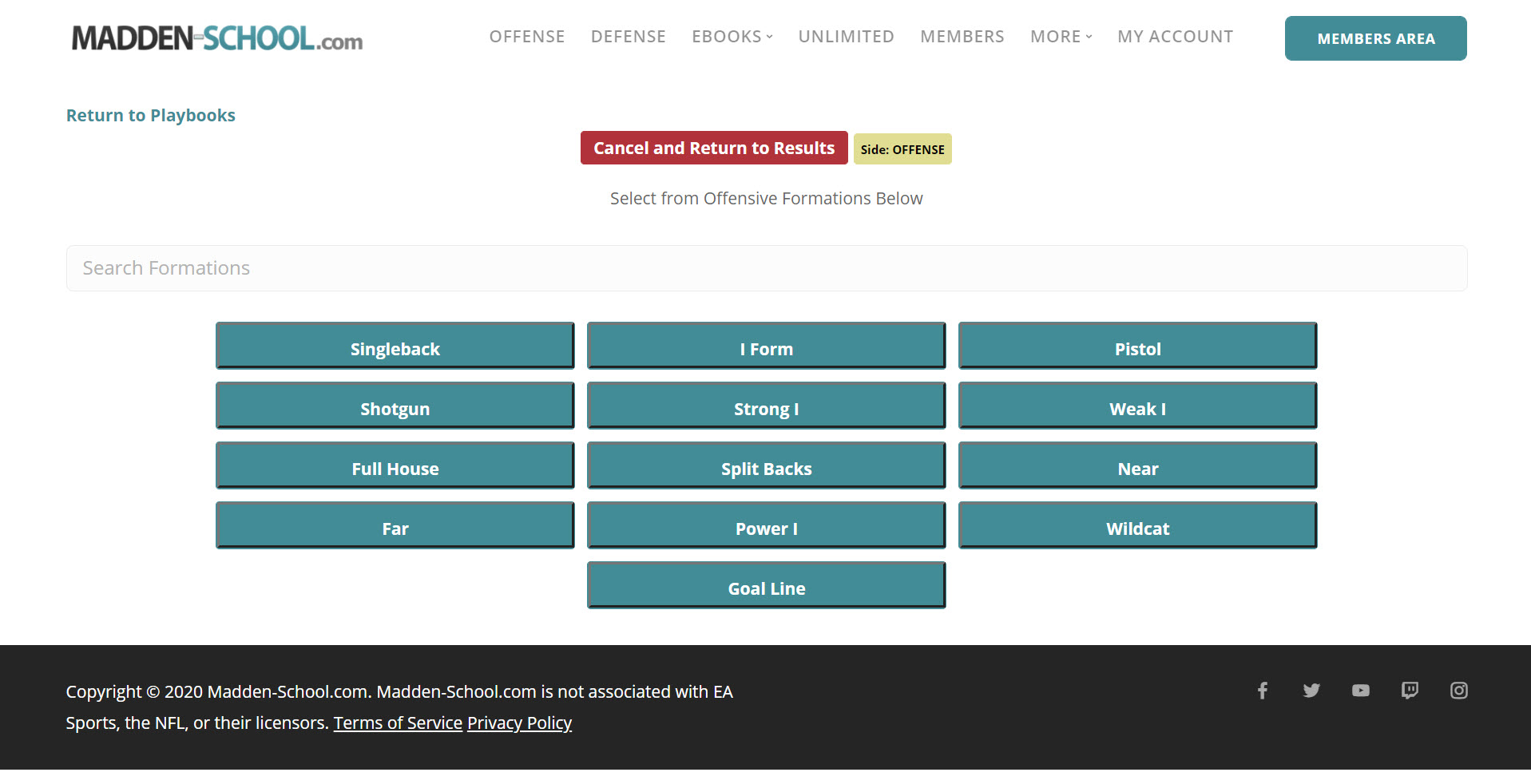 We'll choose Singleback for this example and that takes you to a screen showing the different sets in Singleback.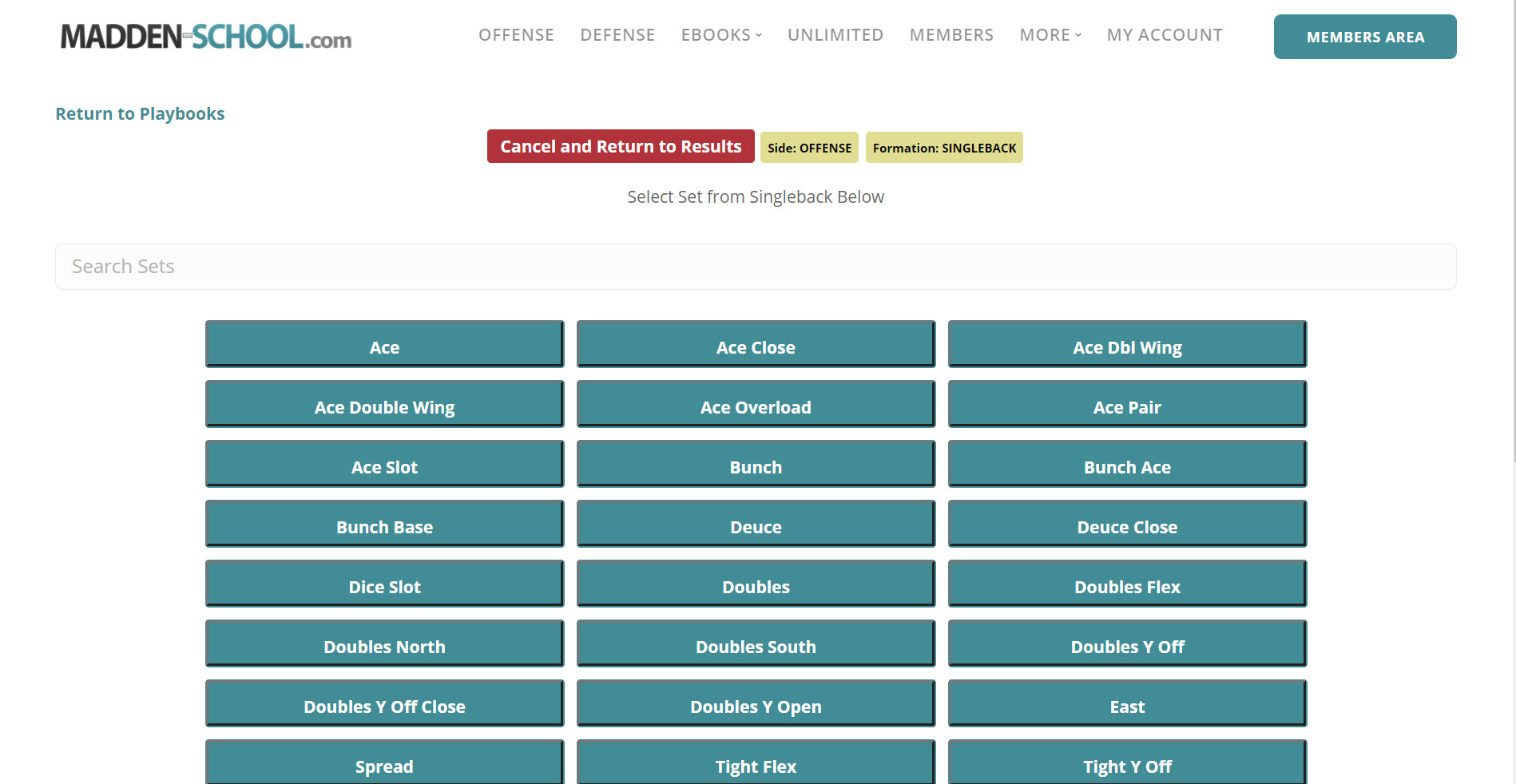 You can see that you are presented with all of the different sets within the SIngleback formation. You can type in the set name you are looking for in the search bar or you can just click the one you want in the options.
We choose Singleback Ace.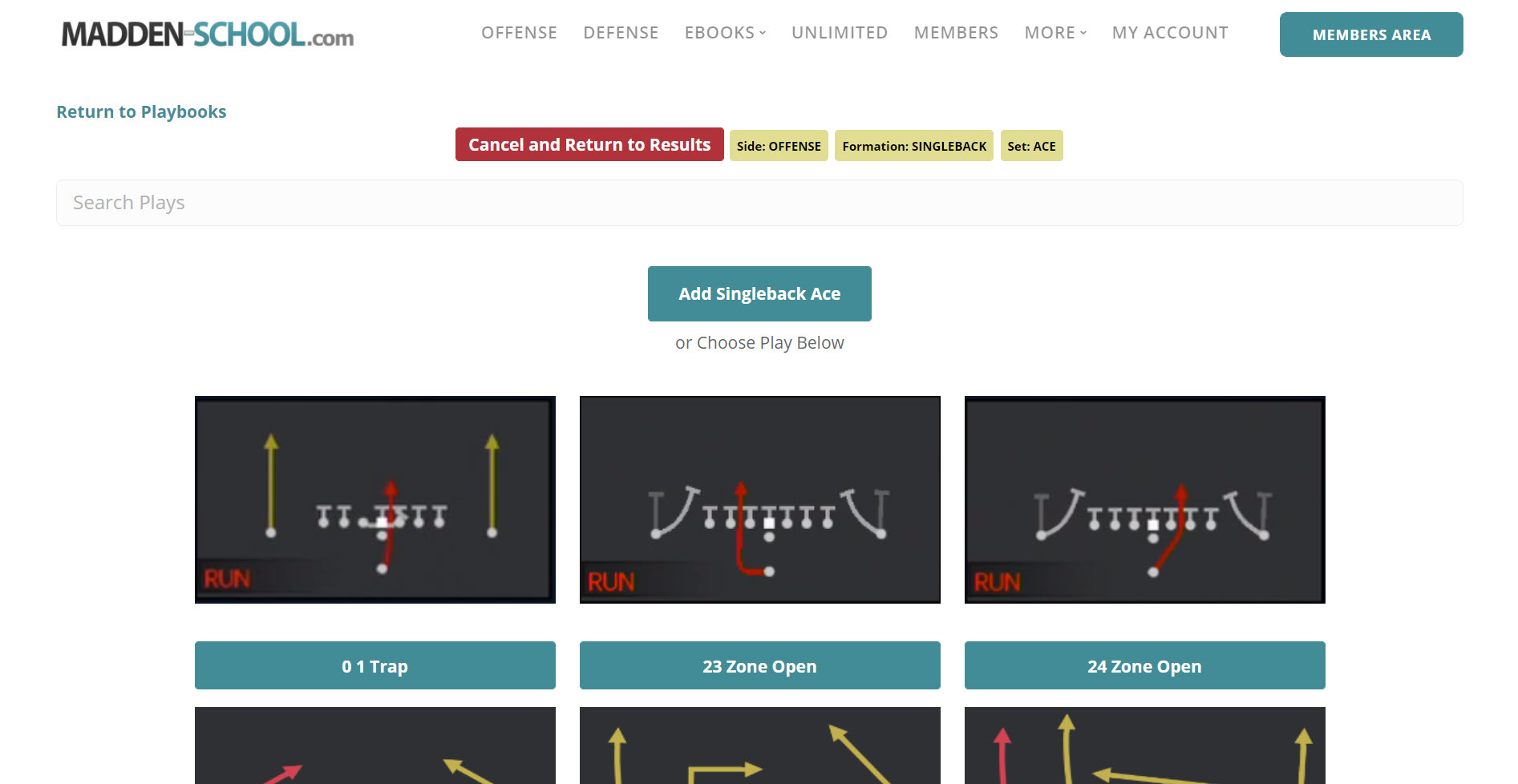 And we now have the option to either "Add Singleback Ace" to the search parameters or select a play within Singleback Ace to add.
We'll add 0 1 Trap.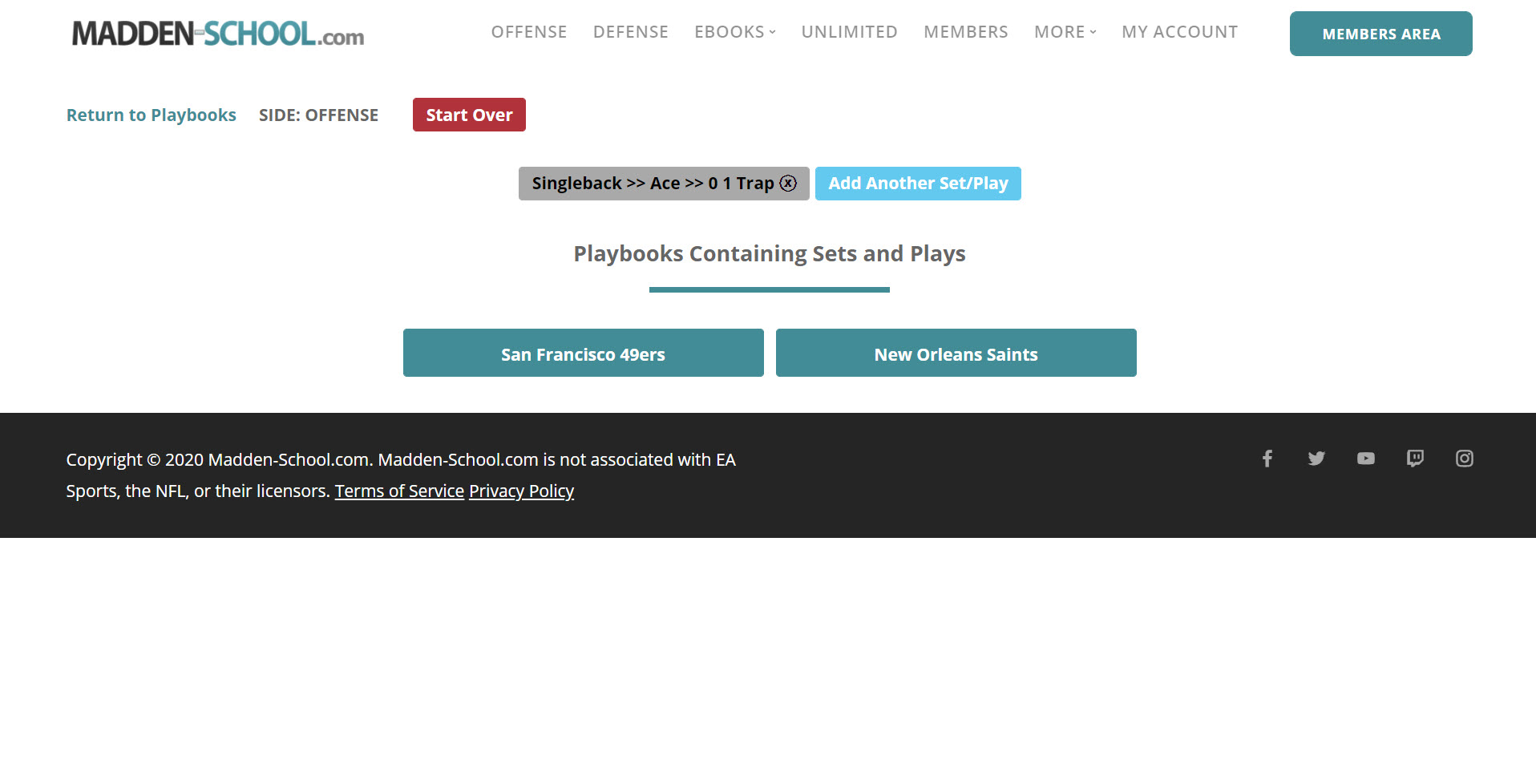 Our tool returns that Singleback Ace 0 1 Trap can be found in the San Francisco 49ers playbook or the New Orleans Saints playbook.
We can now add another formation or play by clicking the blue button.
It takes us back to the original screen.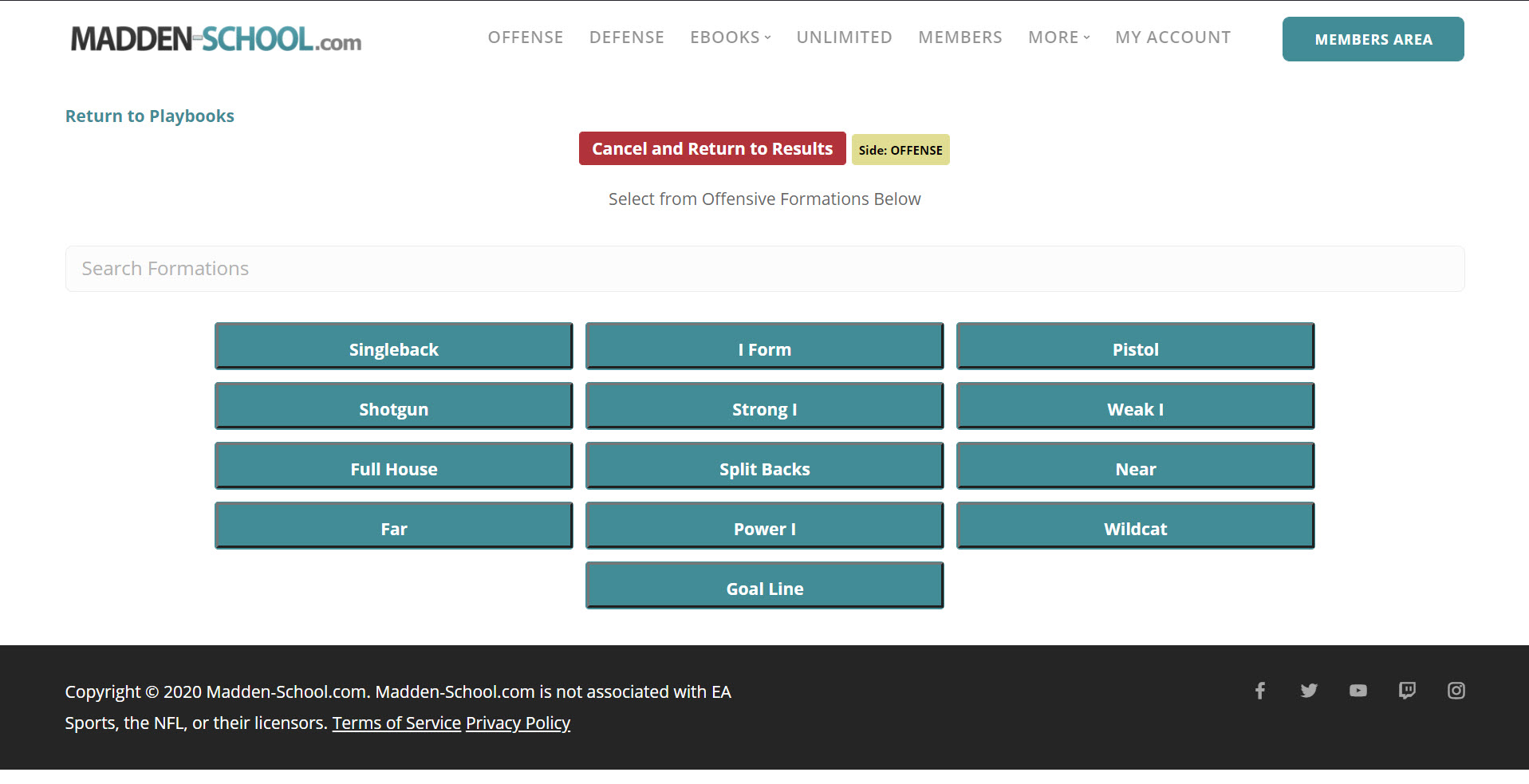 And now we can choose the next formation or play we want.
Let's say we also want whatever playbook we choose to have I Form Close – HB Iso. We'll add that.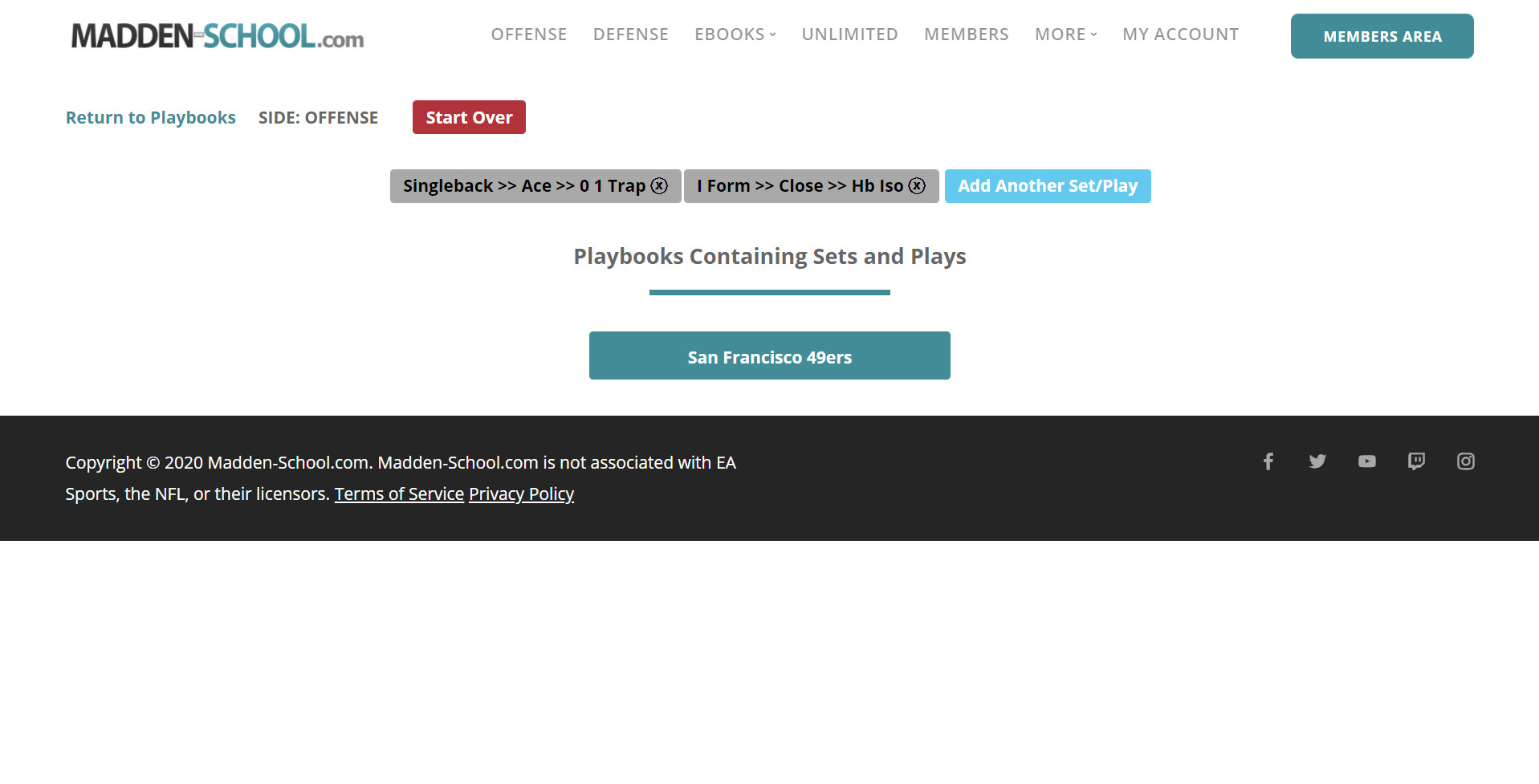 You can see that our tool now returns that the only playbook that has both of those plays in it is the 49ers offensive playbook.
You can do this process as many times as you want and add as many formation/sets as you want to find the perfect playbook for your needs.
Our last Madden 21 playbook tool is called the Madden School Advanced PB Search tool. It has very specific use cases but it can come in incredibly hand for certain situations.
One great way to use it is in an example where your favorite run play in the game is 0 1 Trap but you don't really care what formation it is in.
You can use this tool to find which formations have 0 1 Trap or any other play.
Here is what the tool looks like.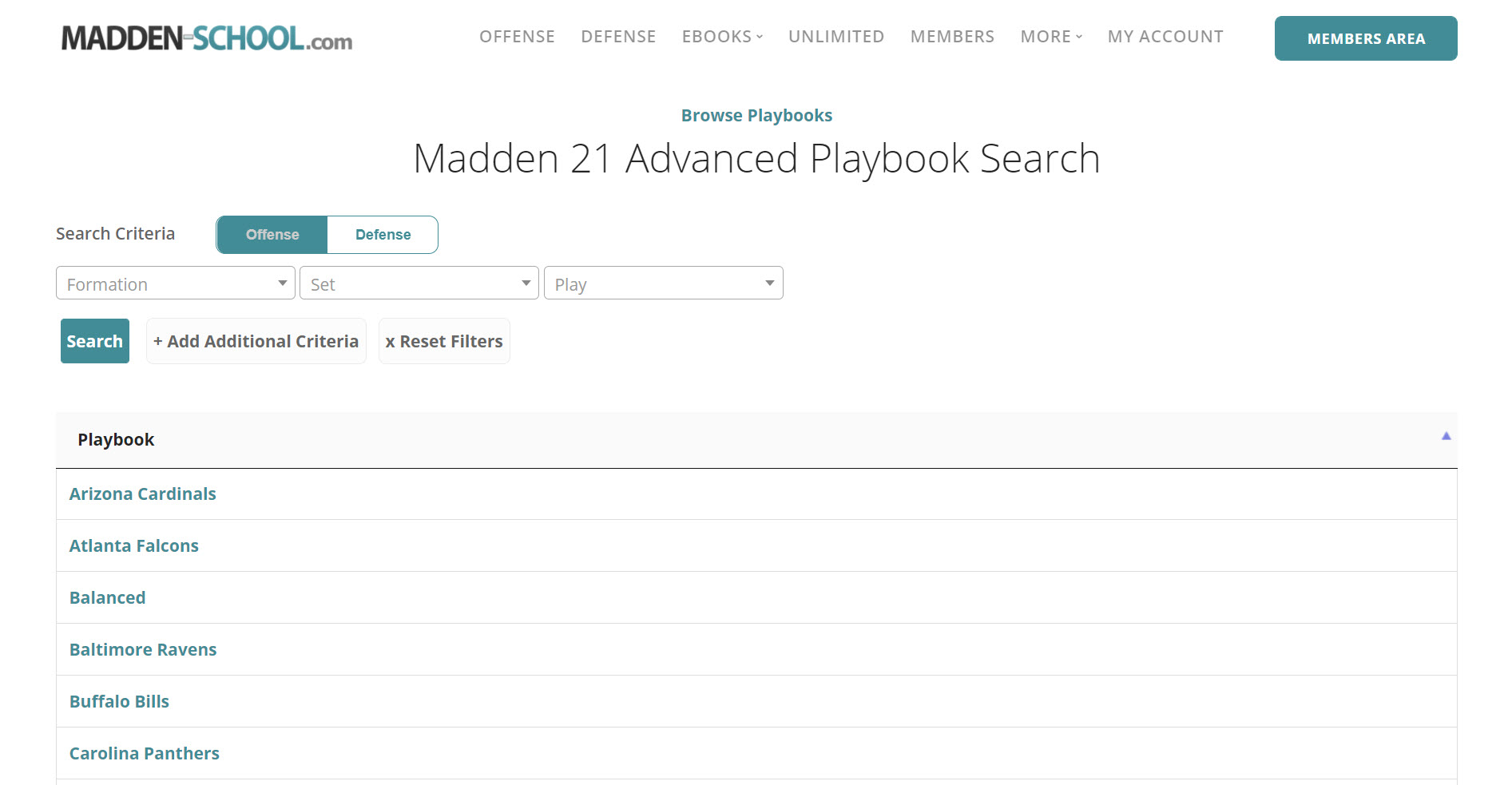 You can see from the screenshot above that you can first select offense or defense and then you are presented with 3 drop down menus: Formation, Set, and Play.
Just type in 0 1 Trap in the play name and then the formation and set will auto-populate with the formations/sets that have 0 1 Trap.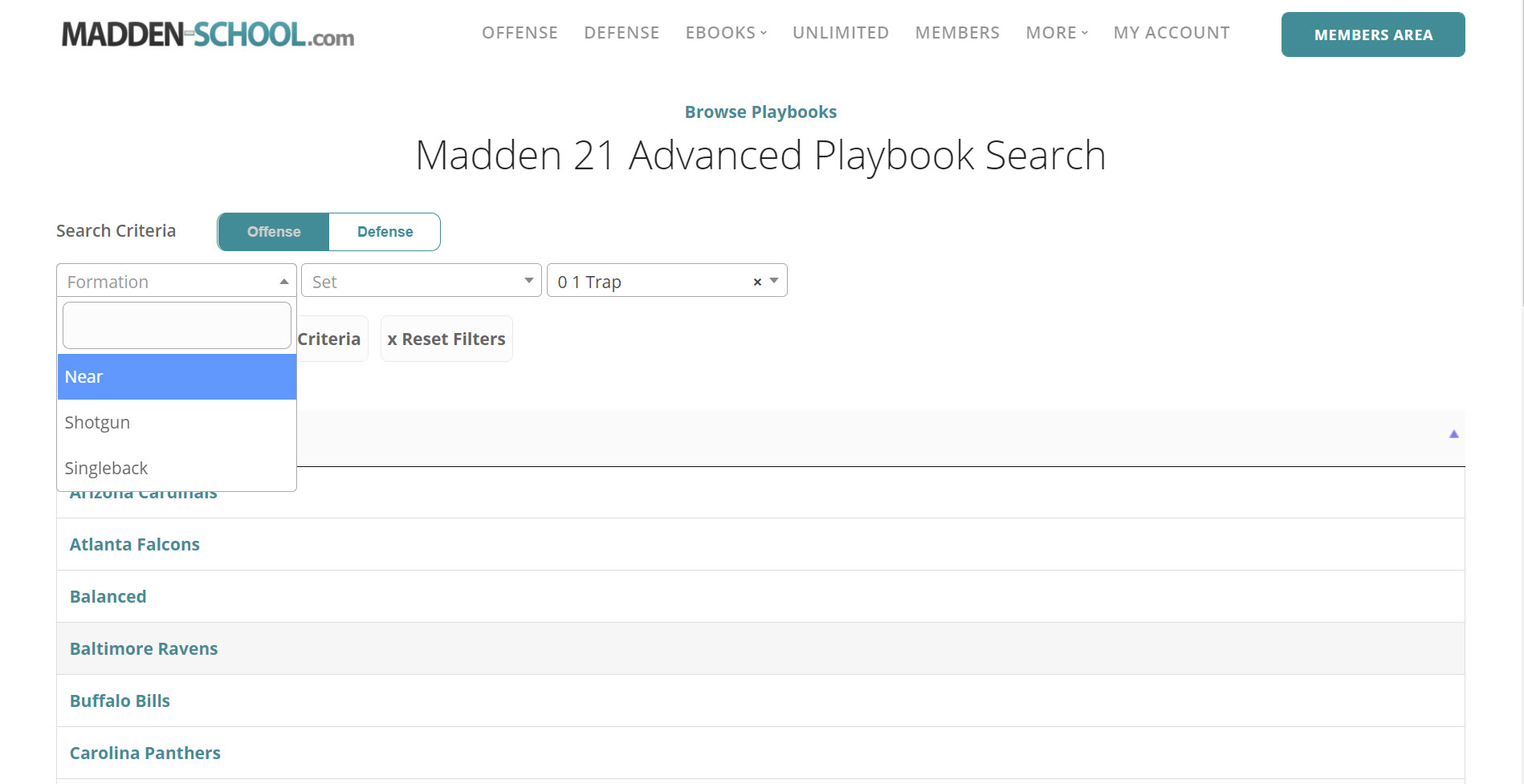 You can see that 0 1 Trap is found in the Near formation, Shotgun Formation, or Singleback formation.
For this example, we'll select Singleback.
And now when we select the "Set" dropdown it shows us all of the different Singleback sets with 0 1 Trap.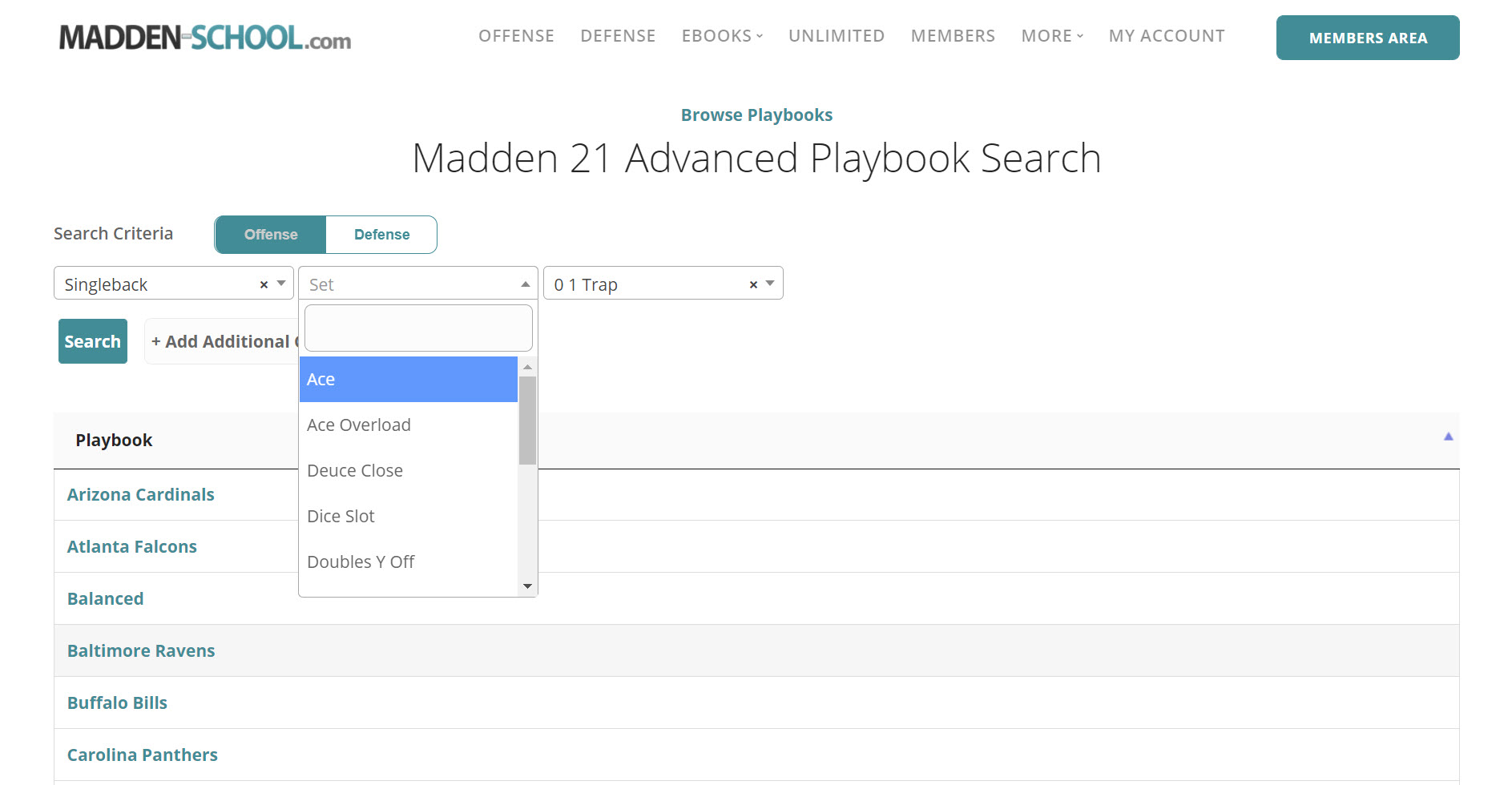 And then once you select the set and press "Search" you can see what playbooks have it.
This kind of thing comes in very useful if you love certain plays like 0 1 Trap or MTN HB Screen, or WR Touch Pass. Plays where you don't really care what formation it is in, but you know you want it in your playbook.
All of these examples featured us looking for offense but the same thing can be done for defensive using any of our playbook tools.
The goal with these tool is to help you save time. You don't have to look through playbooks 1 by 1 on your game console. That is a ridiculous and time consuming process and we wanted to shorten it for you.
If you have any questions whatsoever about how to use our Madden 21 playbook tools, feel free to leave a comment. We are always looking to improve our tools in our quest to better serve the Madden community.
If you do enjoy our tools and want to support us, please consider becoming a Madden School Unlimited member. You'll get access to all our best tools as well as the best plays and schemes in Madden 21.