Selecting a team is the most important moment of any Madden 23 franchise. Choose wisely and you set yourself up for success all year. Choose poorly and you are destined for mediocrity.
Note: If you've moved onto this year's game, our Madden 24 team rankings can be found here.
The goal with these power rankings is to give you an idea of the best teams to take and why. Obviously, your personal preferences will come into play and there is no way we can account for that so please keep that in mind as you are going through this article.
We are also going to assume that your league will last for at least 3+ seasons. The teams best equipped to win right now are often mediocre teams by the 2nd or 3rd year of your franchise.
Let's dive in!

#1 Los Angeles Chargers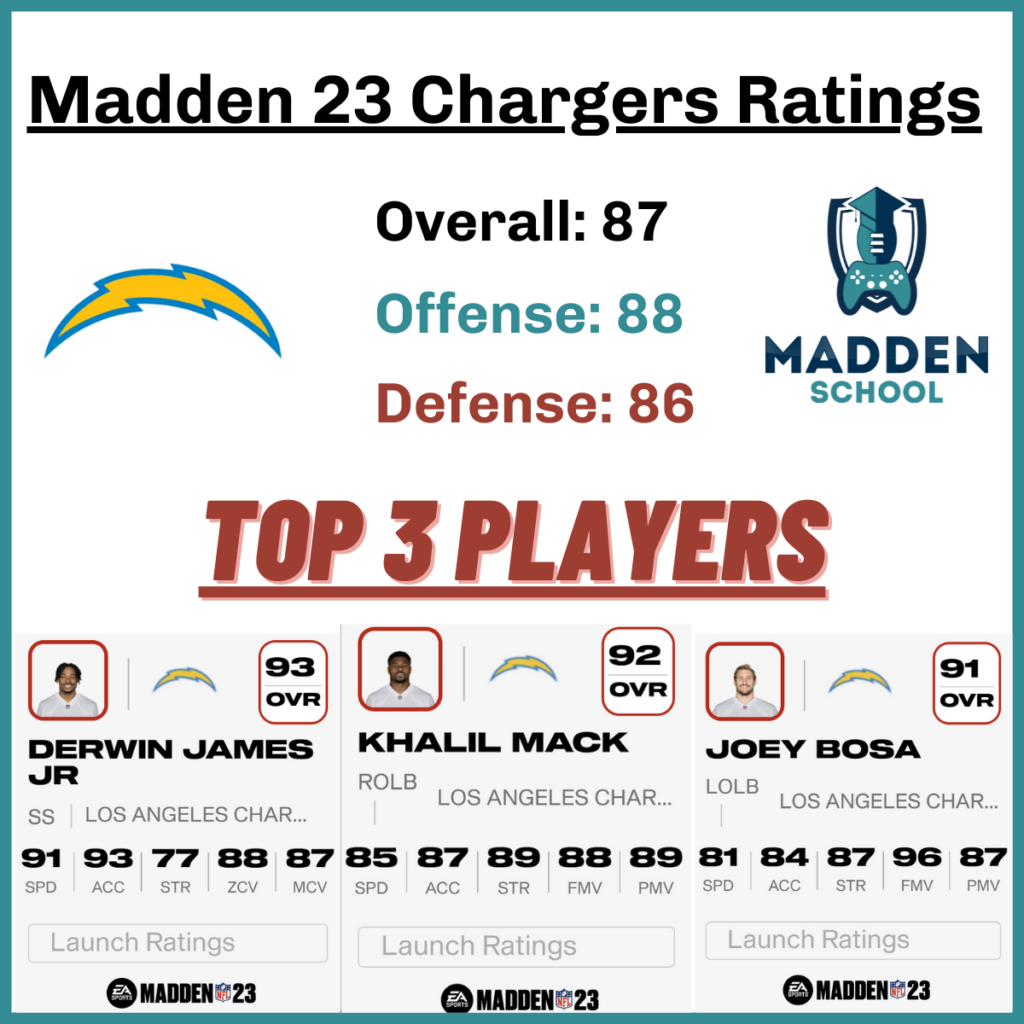 The Chargers are the top Madden 23 team to use in Franchise mode. They have a young team and star players at every important position in Madden.
Justin Herbert is everything you would want in a Madden quarterback. Young, mobile, strong armed, and accurate with good superstar abilities. Austin Ekeler is a dangerous Madden running back, and the receivers make up for their lack of speed with their superstar abilities.
The defense is really what makes the Chargers stand out though. Pass rush is more important than ever in Madden 23 and the Chargers have 2 of the very best in Joey Bosa and Khalil Mack.
SS Derwin James is one of the best safeties in Madden 23 and still very young. J.C. Jackson, Bryce Callahan, and Asante Samuel Jr. form one of the best cornerback trios in Madden 23. You'll want to user rookie FS JT Woods (68 overall, 94 speed, 6'2″). You can quickly see how this secondary can turn into the best around.
While the Chargers may not immediately jump out as a dominant Madden team, once you play with them you will instantly know why they are rated at #1 on our list.
#2 Buffalo Bills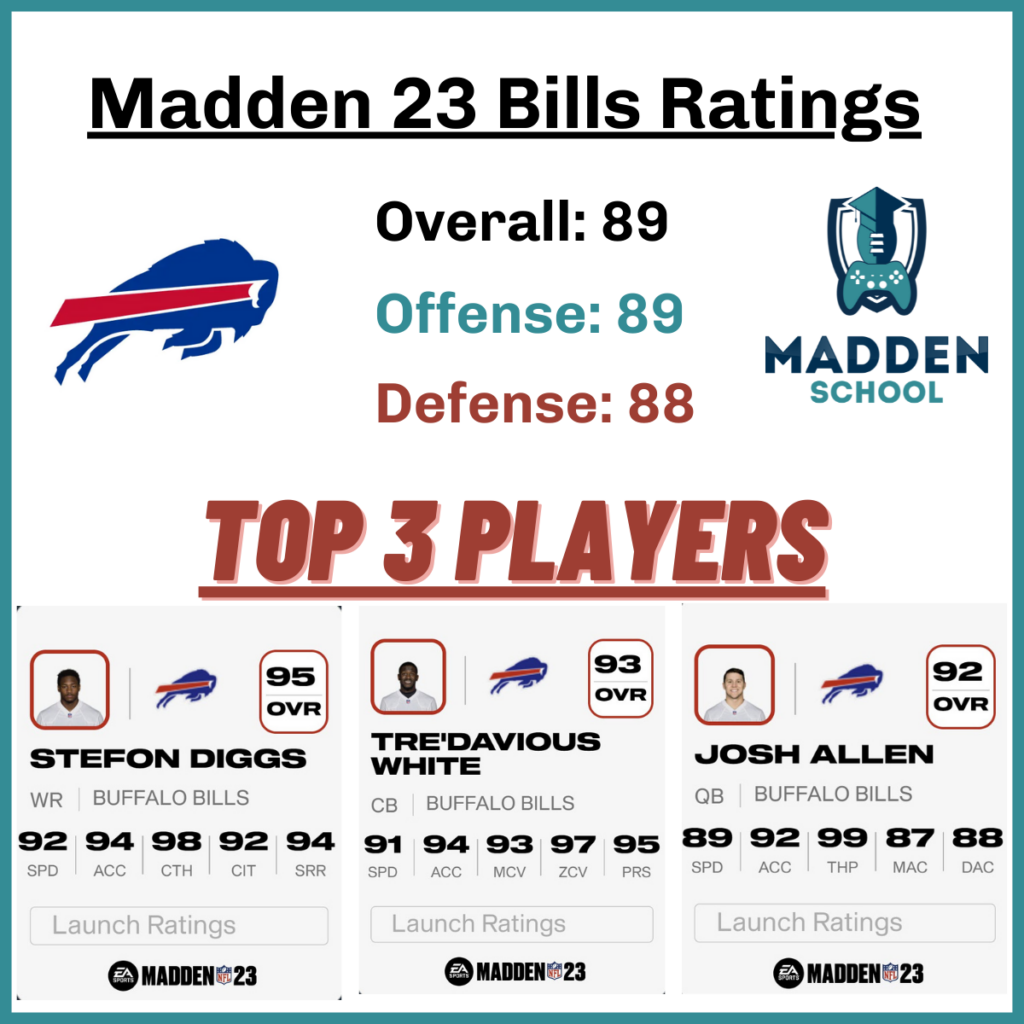 The Buffalo Bills could easily have been #1 on this list. Josh Allen is one of the best Madden quarterbacks of all time with 89 speed, 92 acceleration, 99 throw power, and good accuracy ratings. There is nothing he can't do.
On the offensive side of the ball you have Stefon Diggs and Dawson Knox who will both be very dangerous. The one weakness the Bills have had on offense historically in Madden is running back. Devin Singletary is just too slow to use.
However, the Bills addressed this weakness well in the draft by taking James Cook who comes in at 75 overall, 92 speed and 93 acceleration. If you focus on developing him, you will have an elite running back in no time.
On the defensive side of the ball, the Bills have a lot of weapons. They have 2 of the best safeties in the game in Micah Hyde and Jordan Poyer. Tre'davious White is a top 5 cornerback and Von Miller is a dominant pass rusher.
Tremaine Edmunds is one of the best user linebackers in the game with his height and speed and Ed Oliver can turn into a dangerous DT in the right hands.
Focus on developing DE Greg Rousseau who can turn into a top tier pass rusher in just a couple of years.
This team is dangerous in anyone's hands.
#3 Tampa Bay Buccaneers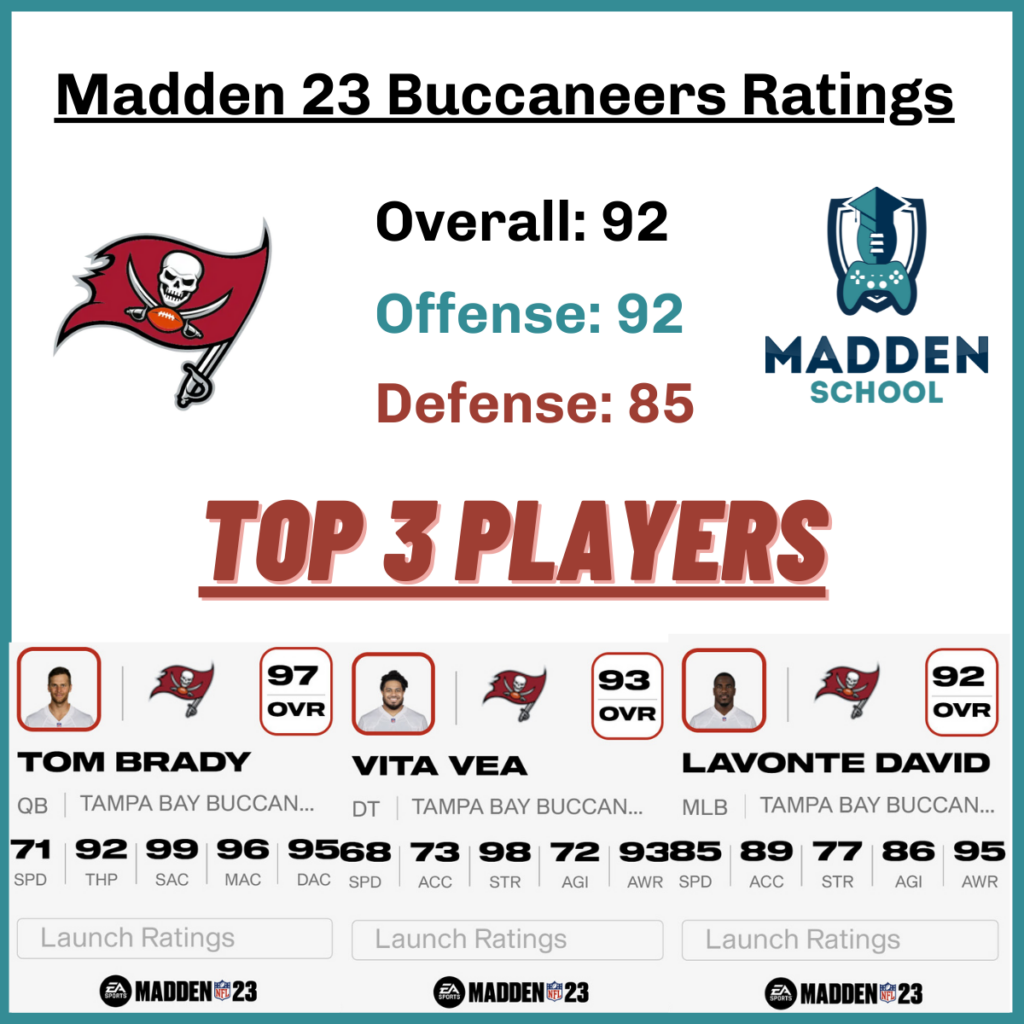 The Tampa Bay Buccaneers are an incredibly talented Madden team. They don't have any glaring positional weaknesses and they'd be much higher on this list if Tom Brady was 10 years younger.
The offense truly has no weaknesses in the first couple of years. After that, it will start to get dicey in season 3. Tom Brady will be retired. Mike Evans, Chris Godwin, Julio Jones, and Leonard Fournette will be getting a little old to have any trade value. You'll have to rebuild this offense as the seasons go by.
The defense is a similar story. It is loaded with great players. Some of them are getting a little on the older side like Lavonte David, Shaq Barrett, and Akiem Hicks but they also have plenty of young talent like Vita Vea, Devin White, and Antoine Winfield Jr.
The main reason the Bucs aren't listed even higher is they don't have one of those players in Madden who absolutely terrifies opponents. They don't have a guy like Lamar Jackson, Tyreek Hill, Aaron Donald, etc.
That being said, they have enough pieces to rework this team and take it in any direction you see fit.
#4 Kansas City Chiefs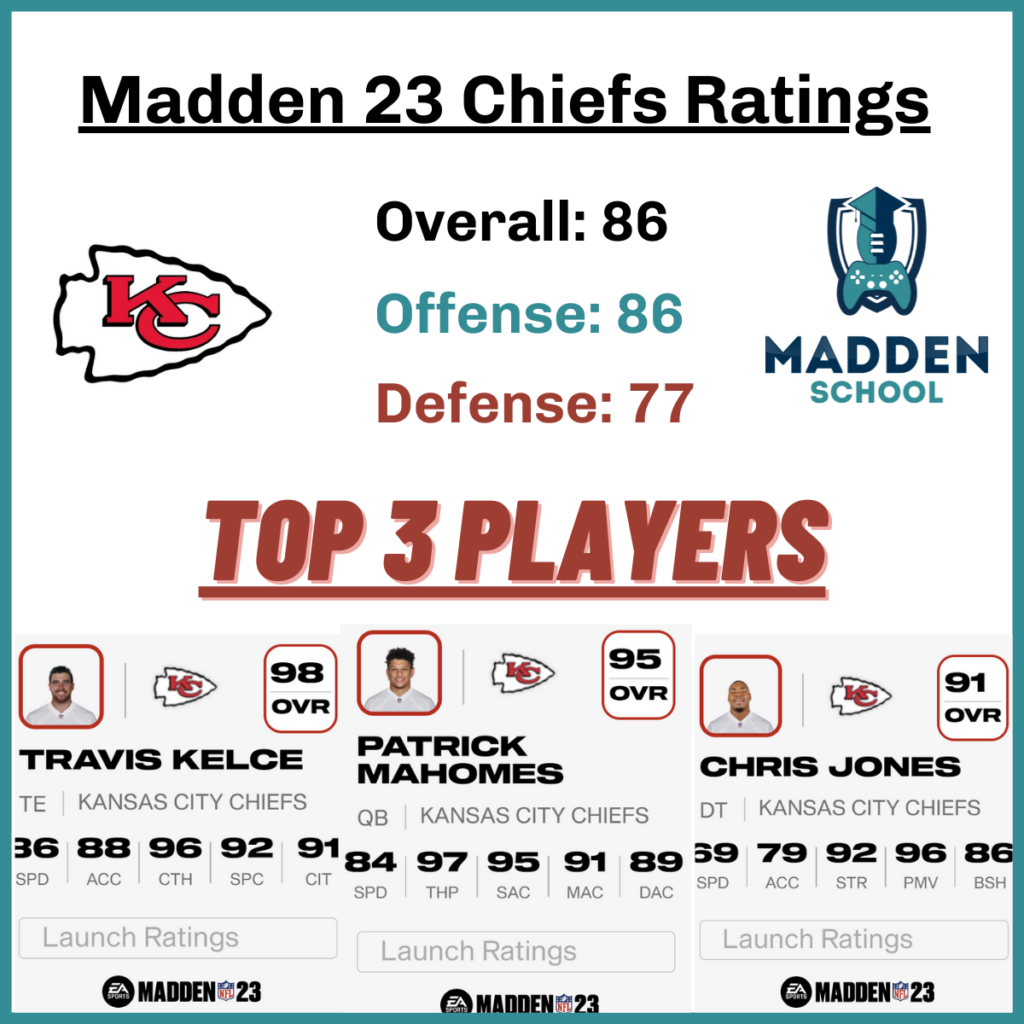 This is the first year in a while where the Chiefs aren't in our top 3 franchise mode teams. Losing Tyreek Hill to the Dolphins is a big reason for the drop but they are still a team that will very much be in demand.
The obvious reason anyone will take the Chiefs is Patrick Mahomes. If he wasn't on the Chiefs, they'd probably drop to somewhere near the middle of the pack. Mahomes is that important and truly one of the most dangerous players in the game.
Travis Kelce is a really nice piece on offense but he is getting a little old so you may want to trade him early on to try to maximize the value you receive.
You'll want to spend your time developing Mecole Hardman in order to turn him into the next Tyreek Hill. Marquez Valdez-Scantling can be another dangerous receiver with his 95 speed rating.
On defense, DT Chris Jones is an absolute beast. Justin Reid, L'Jarius Sneed, and Trent McDuffie are young talented guys in the secondary with good speed ratings so make sure to focus train some of these guys to maximize their potential.
#5 Green Bay Packers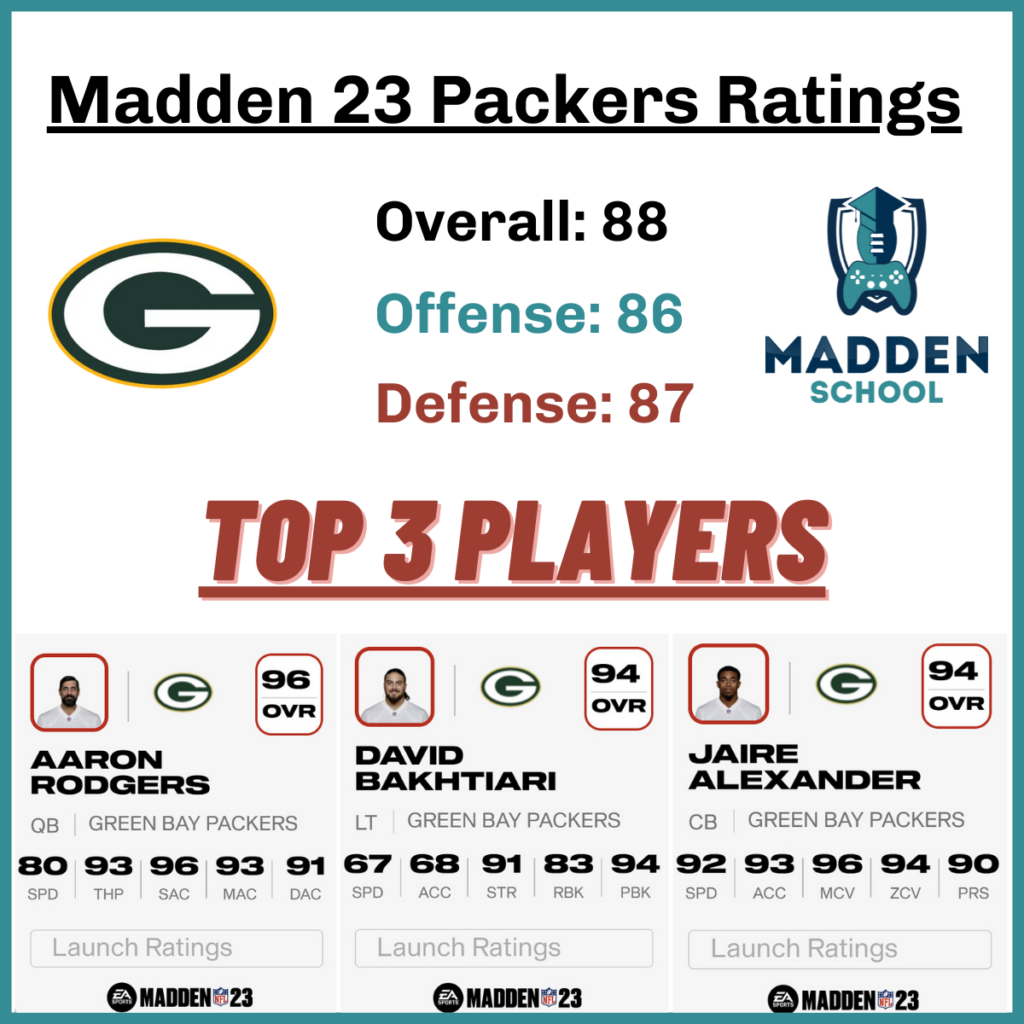 The Green Bay Packers are a very good team to get in franchise mode. You can either ride out Aaron Rodgers for a couple of seasons or trade him immediately for a decent haul.
Aaron Jones is always a dangerous running back in Madden. As he is starting to get older, you may want to focus on developing power back A.J. Dillon. The Packers' wide receiving group is pretty weak now that Davante Adams is no longer there but receivers are usually easy enough to develop.
The real reason the Packers are this high in our rankings is their defense. Jaire Alexander is one of the best young cornerbacks in the game and Eric Stokes, with his 95 speed, can easily be developed into another shutdown corner.
Adrian Amos and Darnell Savage are both good Madden safeties while Kenny Clark, Rashaan Gary, Preston Smith, and De'vondre Campbell will cause fear in the front 7.
Rookies Devonte Wyatt and Quay Walker have the chance to turn into something special if you develop them too. You can see how in a year or 2 how the Packers will have possibly the best defense in the game.
#6 Baltimore Ravens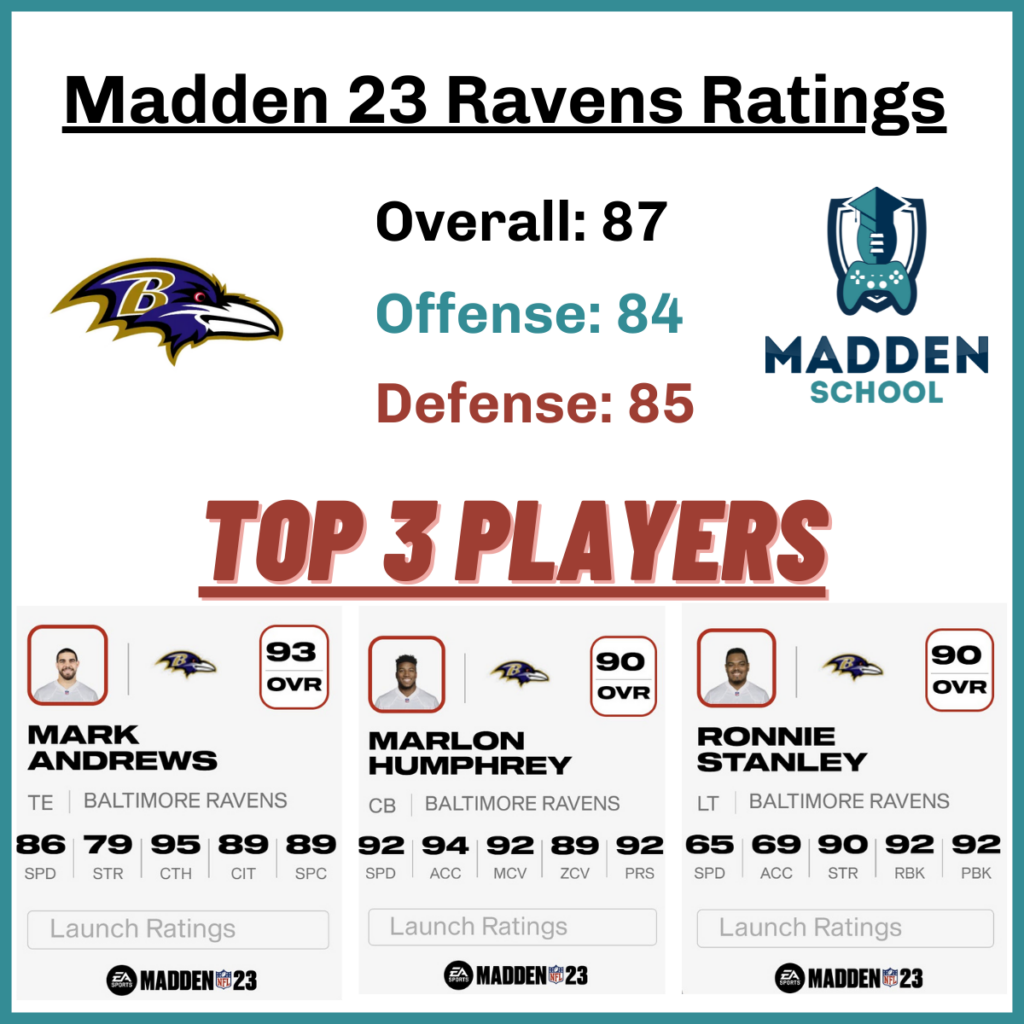 The Ravens are this high almost exclusively because of Lamar Jackson. You can take half the teams in the NFL and if they offered to trade you the top 3 players on their team in exchange for Jackson, you'd laugh and turn them down.
96 speed at quarterback with good throw power and accuracies is just that important in Madden.
However, the Ravens still have some really good pieces on their team. Mark Andrews is one of the best tight ends in the game and J.K. Dobbins is still young enough to develop into a solid player. Unfortunately, the you will need to draft or trade for some receivers.
The Ravens' defense is still top tier. Marlon Humphrey, Marcus Peters, Marcus Williams, and Kyle Hamilton make up an elite secondary. Calias Campbell, Odafe Oweh, Michael Pierce, and Patrick Queen make up a formidable front 7.
All in all, you take this team to ensure you get Lamar Jackson. The defense is just a nice bonus.
#7 San Francisco 49ers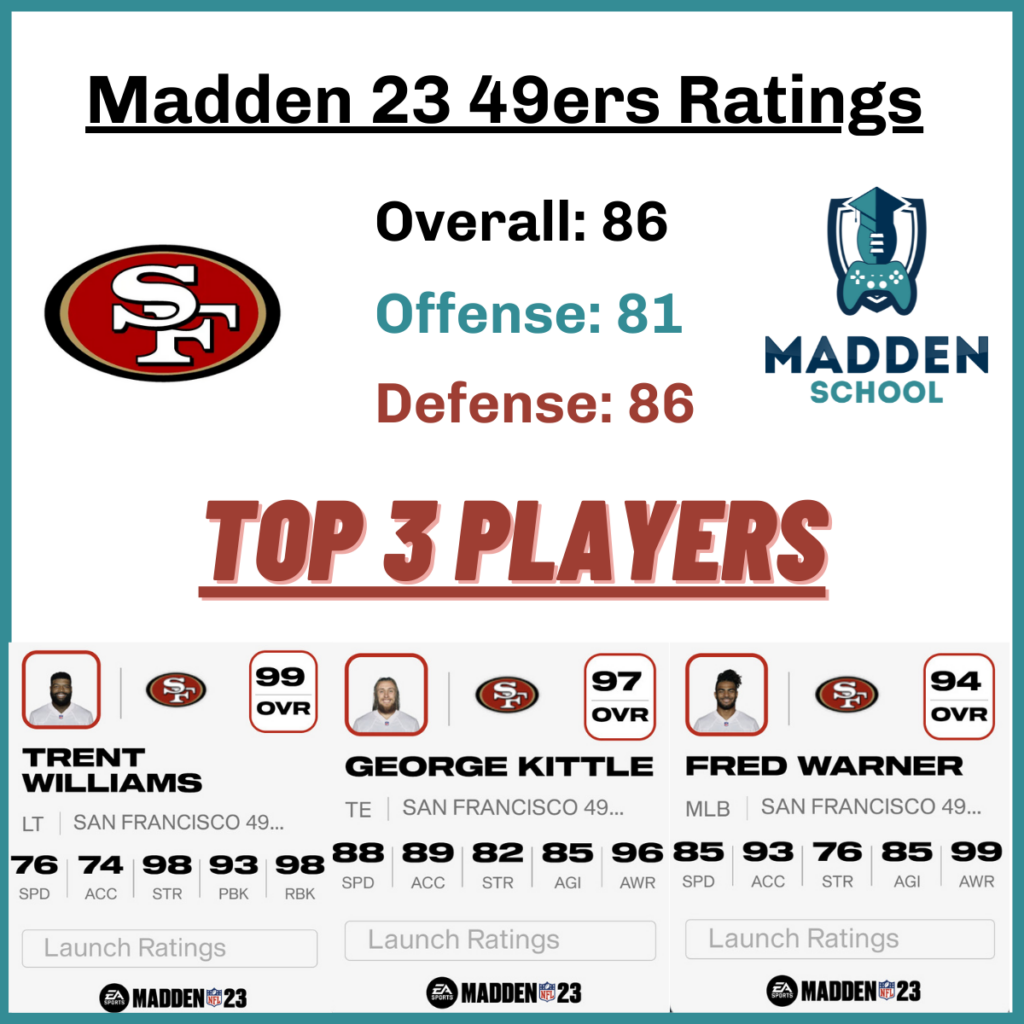 If you think you'll be able to turn Trey Lance into a star QB, the 49ers are a steal at #7. If you aren't great at developing quarterbacks, they may drop a down a little further down this list.
Trey Lance is 72 overall and only 22 years old. He has 87 speed and 91 throw power. With decent development you'll have a young QB with around 90 speed and 93 throw power.
George Kittle and Deebo Samuel are two of the most dangerous weapons in all of Madden 23. That's why it's so important to develop Trey Lance.
WR Danny Gray is a sleeper at 6'2″ with 94 speed. He should be your 2nd development priority with this team.
Even with the potential to become a high powered offense, the 49ers are a defensive team. Fred Warner, Nick Bosa, Jimmie Ward, and Arik Armstead are all playmakers. If you can draft or develop a star cornerback, it will be very hard to move the ball on this defense.
#8 Cleveland Browns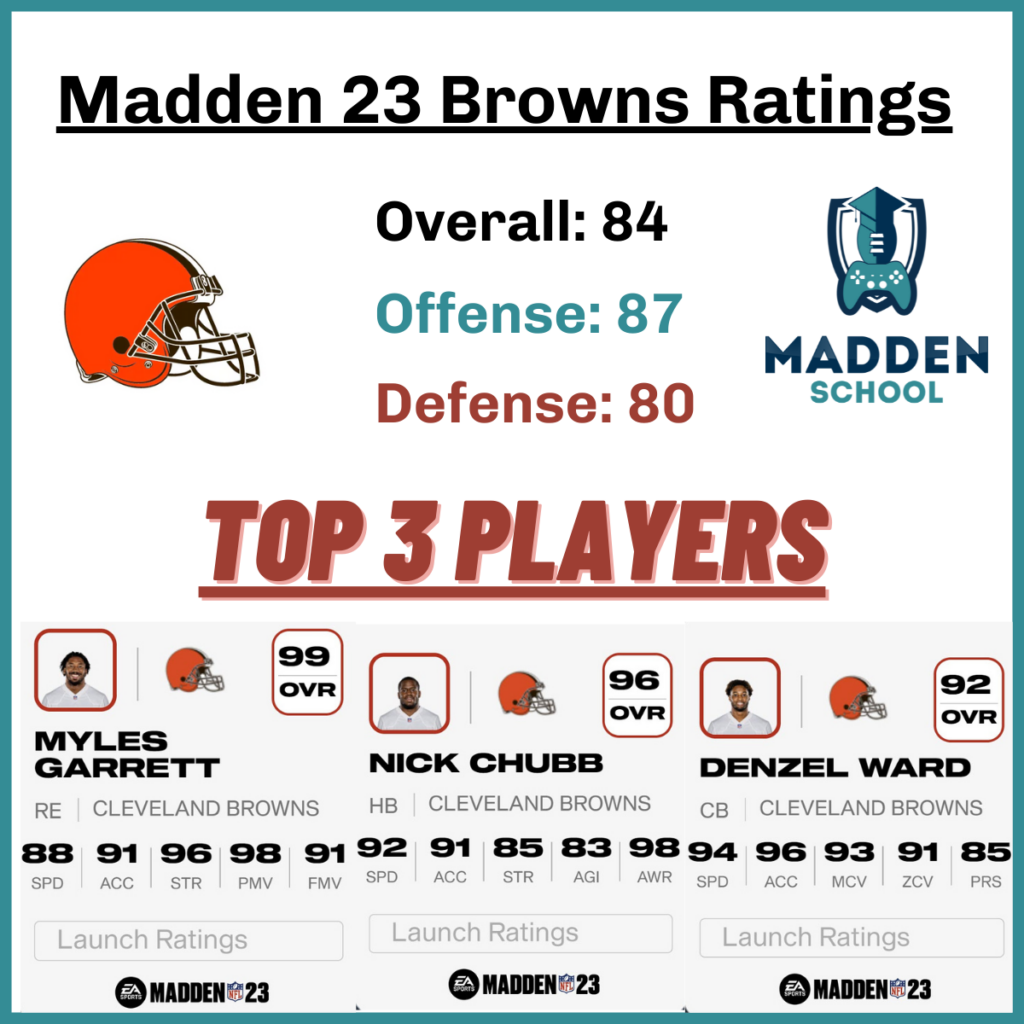 The Cleveland Browns are a really solid Madden team. The Browns have a handful of really special players and then some guys who can become special with the right development.
Myles Garrett may be even better than Aaron Donald on the defensive line this year. He's only 26 years old and already a 99 overall with 88 speed, 91 acceleration, 98 awareness, and 90+ power moves, finesse moves, and block shed.
Nick Chubb is one of the best running backs in Madden 23 at 96 overall with 92 speed and 85 strength and WR Anthony Schwartz is the perfect receiver to develop (21 years old, 96 speed).
Denzel Ward is a young shutdown cornerback with elite speed, and Amari Cooper is a proven stud at receiver.
Deshaun Watson may be a little too old (26 years old and only star development) to turn into an elite quarterback but his 84 overall rating with 85 speed and 93 throw power is still incredibly dangerous.
The Browns also have some young players who can develop into the next generation of superstars in CB Greg Newsome, CB Greedy Williams, and OLB Jeremiah Owusu-Koramoah.
#9 Arizona Cardinals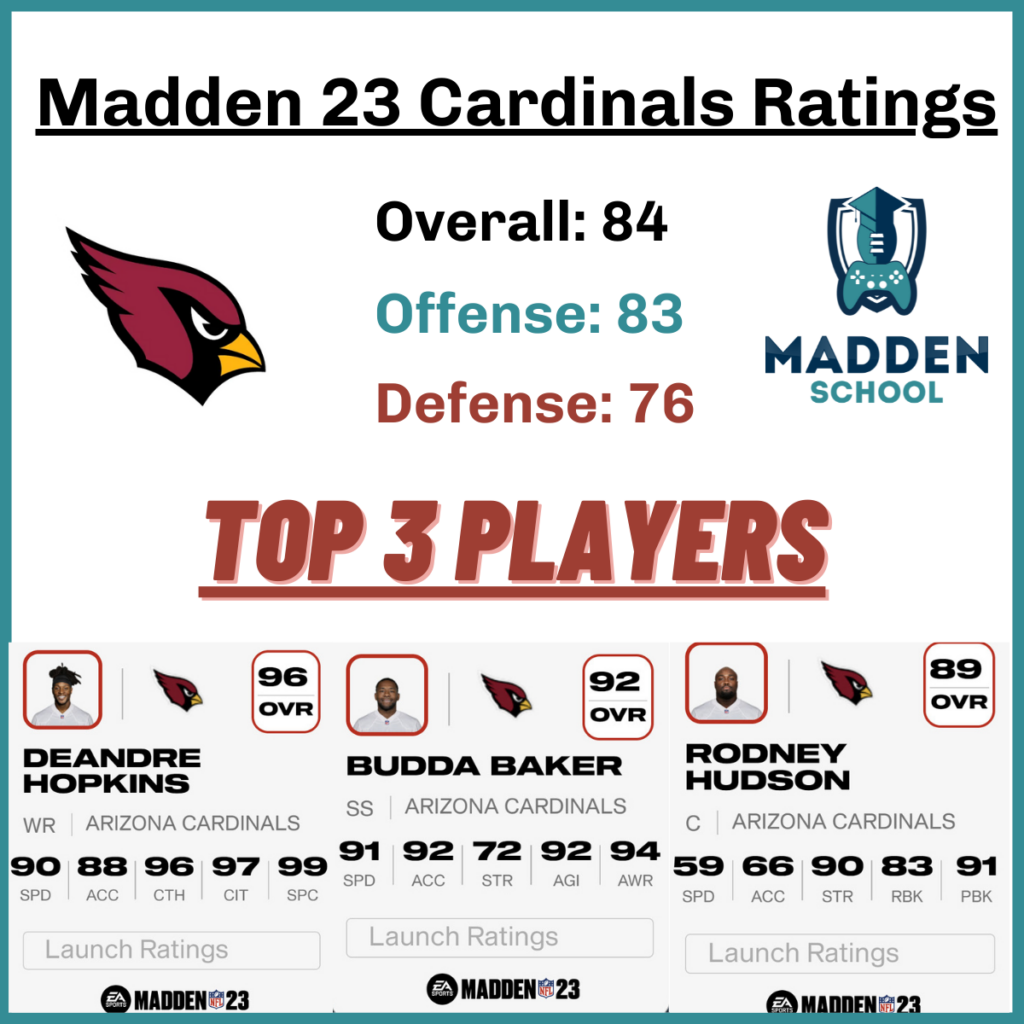 The Cardinals offense is perfect for a top tier Madden player. You have an elite young QB in Kyler Murray (84 overall, 92 speed, 90 throw power) paired with a star receiver in DeAndre Hopkins.
Then you have a bunch of speedy but underdeveloped receivers in Maquise Brown, Rondale Moore, Andy Isabella. If you are able to develop even just 2 of these 3 receivers, you will have a feared passing attack.
If you are then able to draft and develop a speedy halfback, this will quickly turn the Cardinals into the best offense in Madden 23.
The defense however is a completely different story. J.J. Watt is regressing and old and Chandler Jones left for the Raiders. There really is no defense to speak of outside of your developmental user linebacker (78 overall MLB Isaiah Simmons).
If you want offense and don't care about defense, the Cardinals are your team!
#10 Dallas Cowboys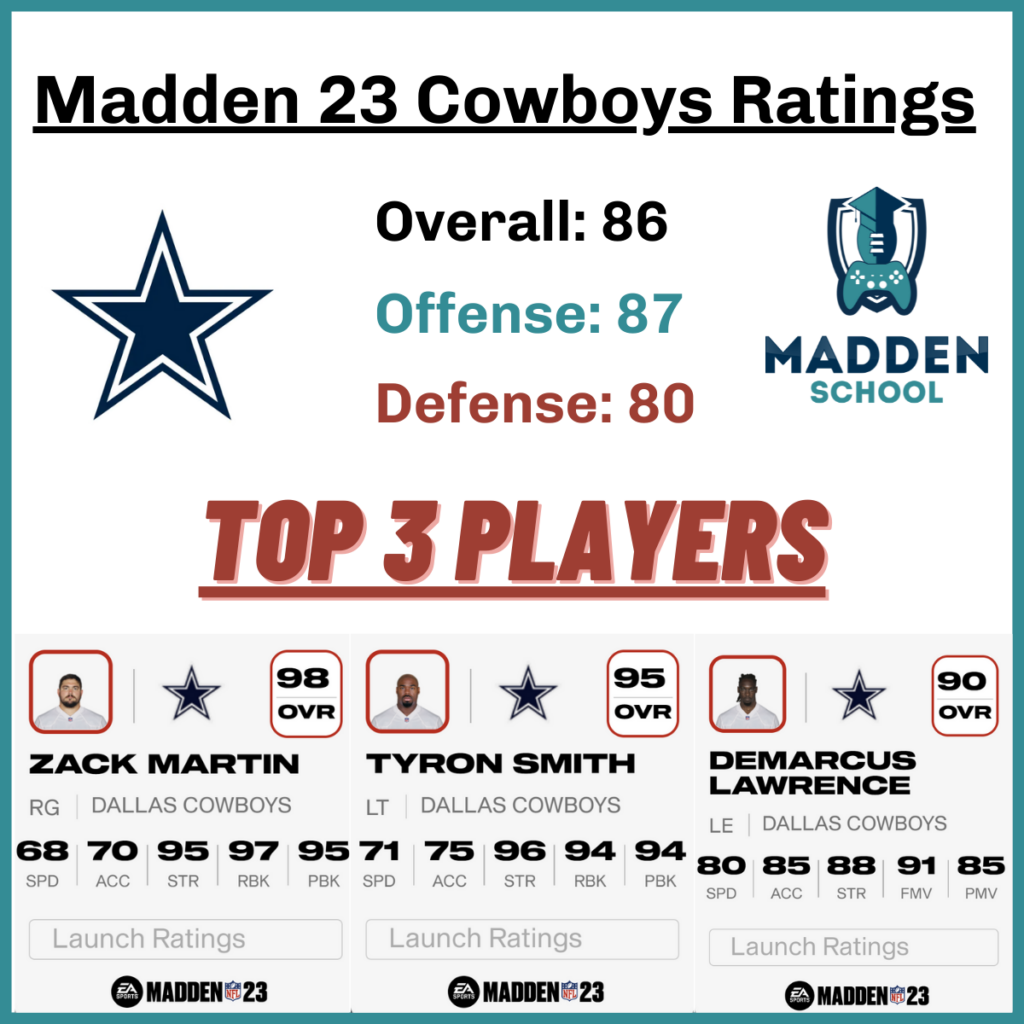 The Cowboys are another team with a handful of truly elite players combined with solid players at most positions.
Micah Parsons might be the most dangerous defender in all of Madden 23. He is only 23 years old already with an X-Factor ability, 88 overall with 91 speed and 94 acceleration. Fully developed, he will be one of the scariest defenders in a long time.
Trevon Diggs is another young guy who you really can't screw up developing and will turn into a shutdown cornerback.
Pair those guys with Dak Prescott, Zeke Elliott, Ceedee Lamb, and a good offensive line, and you can see why the Cowboys are a top 10 Madden 23 team.
#11 Los Angeles Rams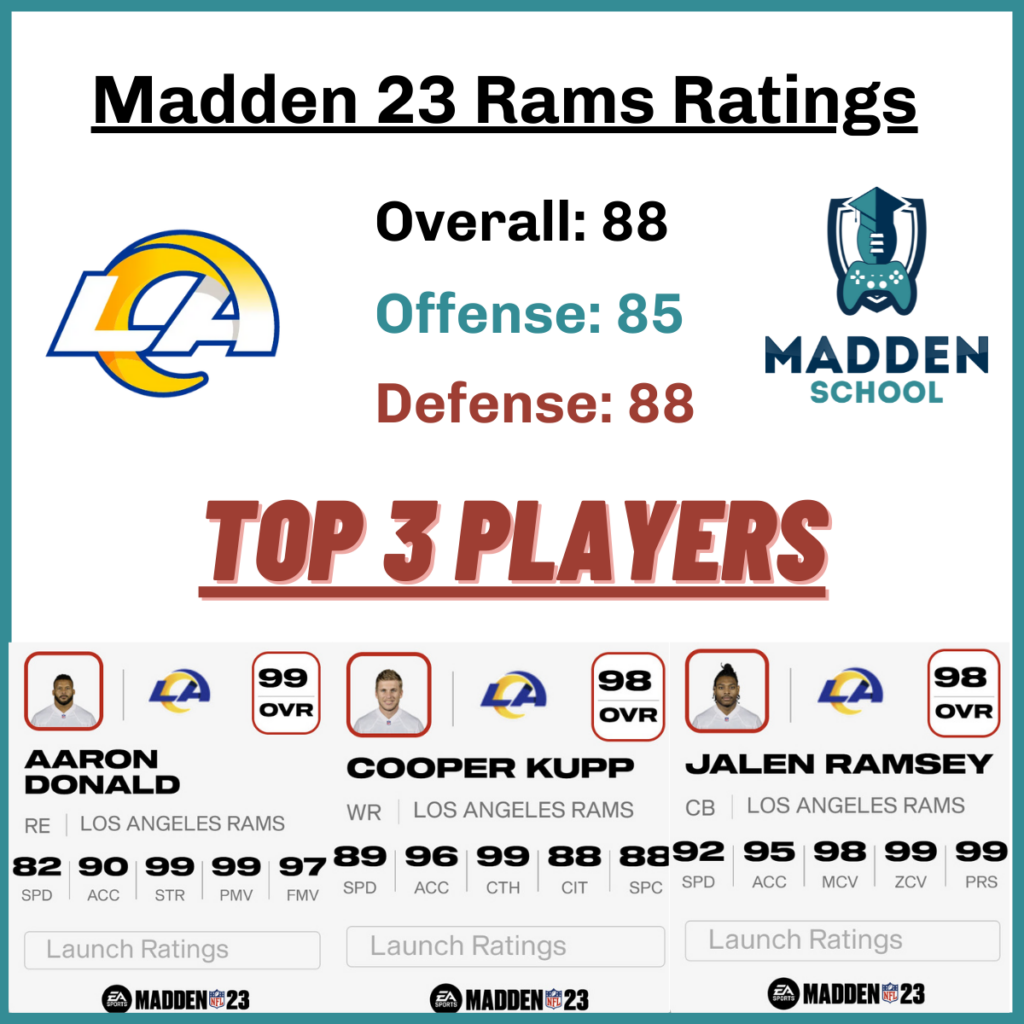 The reason you take the Rams is because they have 2 of the best defensive players at their position in a long time. Aaron Donald wreaks absolute havoc against opposing offenses and Jalen Ramsey can shut down an entire side of the field.
Matthew Stafford is a solid 85 overall superstar quarterback but he is getting a little old at 34. Cooper Kupp is a great piece to trade if you can find someone in your league that doesn't care much about speed at WR.
Cam Akers is a bit of a sleeper at 23 years old and 83 overall. While everyone is trying to stop your passing attack, you should be able to develop him into a 90+ overall halfback.
The rest of the offense doesn't do much for us with good players like Tyler Higbee and Allen Robinson being to slow to make an impact.
On defense, Bobby Wagner will give the Rams a 3rd defender that offenses will have to worry about. Other than those big 3 defenders though, the Rams have very little talent on defense for Madden purposes.
All in all, the Rams are a very solid Madden 23 team.
#12 Tennessee Titans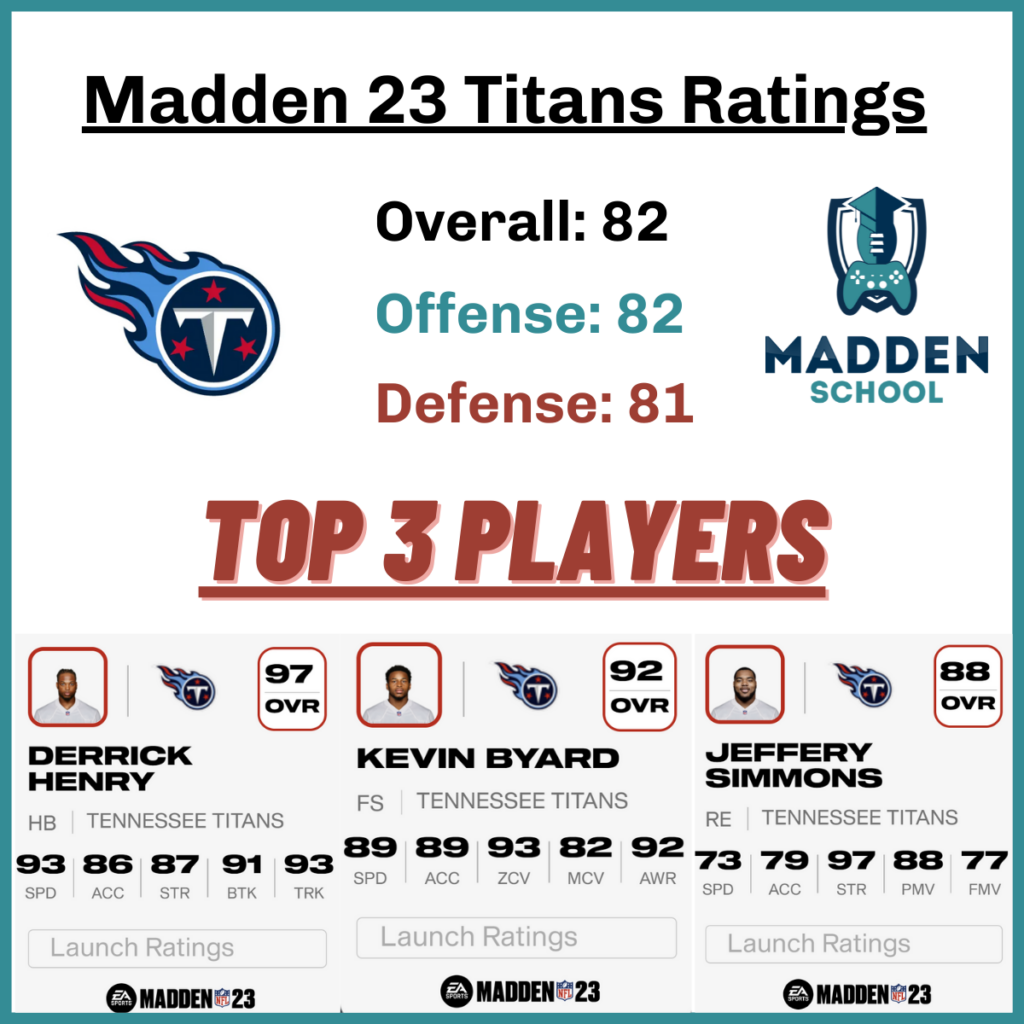 You'll want to take the Titans if your plan is to call a run first offense and play defense. Boring yes, but it can be effective with a beast like Derrick Henry in the backfield.
You'll have to be aware that Henry will start regressing fairly quickly as he's already 28 years old, but you should be able to get a few good years out of him.
Rookie QB Malik Willis needs to start from day 1. He comes in at only 69 overall, but his 92 speed and 94 throw power give him the potential to be one of the best quarterbacks in the league if you develop him right. Willis being on this team easily moves them up at least 5 spots.
The defense has plenty of good players. Kevin Byard is a top 5 safety in all of Madden, Jeffrey Simmons is a beast up front, and Harold Landry can cause problems on the edge.
The sleeper on defense that you will want to focus on developing is CB Caleb Farley (75 overall, 95 speed). With the right development, he will turn into an elite cornerback.
#13 Carolina Panthers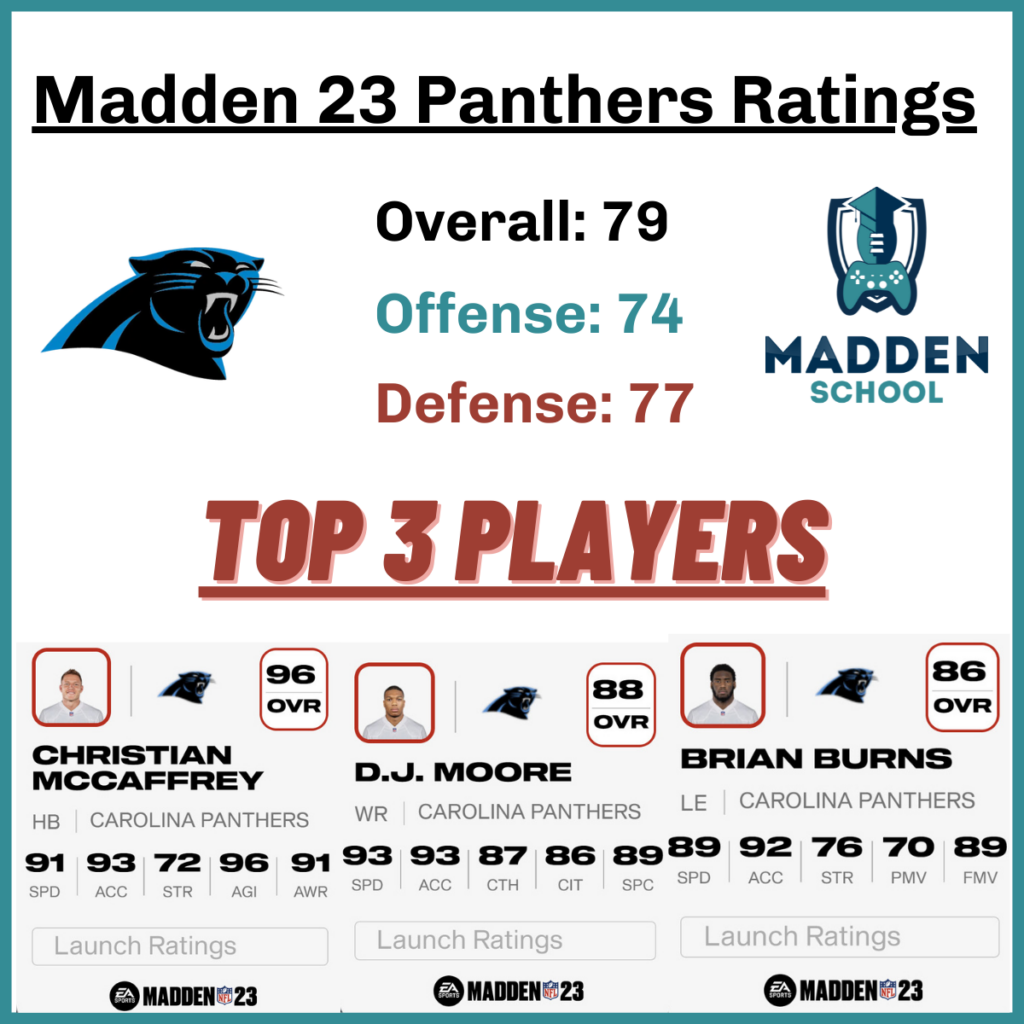 The Panthers are a team that a lot of high level Madden gamers will likely be selecting. They don't jump out at you on paper but if you take a closer look at them, this team has a ton of potential.
Christian McCaffery is getting older (26) and only has 91 speed both of which aren't great for a running back but he still will be pretty effective for a few seasons.
D.J. Moore (93 speed) and Robbie Anderson (94 speed) are respectable receiving threats deep, and Baker Mayfield is a better Madden quarterback than he is in the actual NFL.
The defense has all kinds of young guys. If you can properly juggle developing them all, you will have one of the best defenses in the NFL in a couple of seasons.
Brian Burns, Jeremy Chinn, Derrick Brown, Dontae Jackson, C.J. Henderson and Jaycee Horn all have the potential to be amazing players at their positions.
Rookie CB Kalon Barnes is a hidden gem with 98 speed. Unfortunately he is only a 64 overall, so you will really have to work hard to develop him.
Look for the Panthers to go higher than a lot of people think they will.
#14 Cincinnati Bengals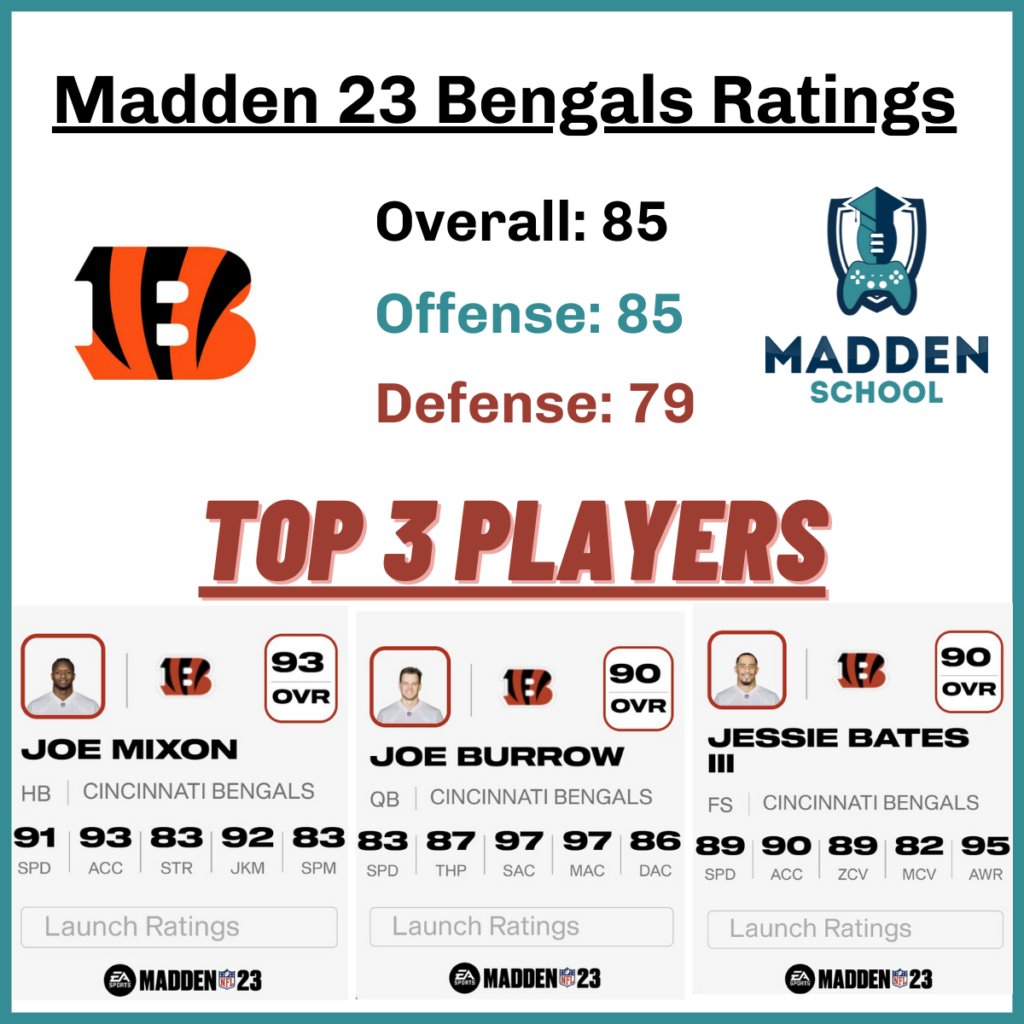 You'd think that the 2022 Super Bowl runner-up Bengals would be higher up, but as you probably figured out with the Super Bowl Champion Rams ranked at 11th on this list, elite teams in the NFL don't always translate well into Madden.
That's very much the case with the Bengals. The main issue here is former #1 overall pick and the Bengals' best player, Joe Burrow, is basically unusable in Madden. Sure he is a 90 overall and a superstar but his 87 throw power makes drops him into a mid-tier at best Madden QB.
That being said, this is still a team with plenty of talent. Ja'marr Chase has an 87 overall rating and 94 speed. That should easily develop into a 99 overall in just a couple short seasons and Joe Mixon is a beast at running back.
The defense has a nice mix of very good current players as well as young player's you'll be able to develop. Jessie Bates, Trey Hendrickson, Chidobe Awuzie, and Logan Wilson will all cause immediate trouble for offenses.
The Bengals have crazy rookie potential in the secondary with FS Daxton Hill (75 overall, 93 speed), CB Cam Britt-Taylor (70 overall, 93 speed), and SS Tycen Anderson (65 overall, 94 speed, 95 acc, 6'2″). All 3 of these guys have amazing development potential.
#15 Miami Dolphins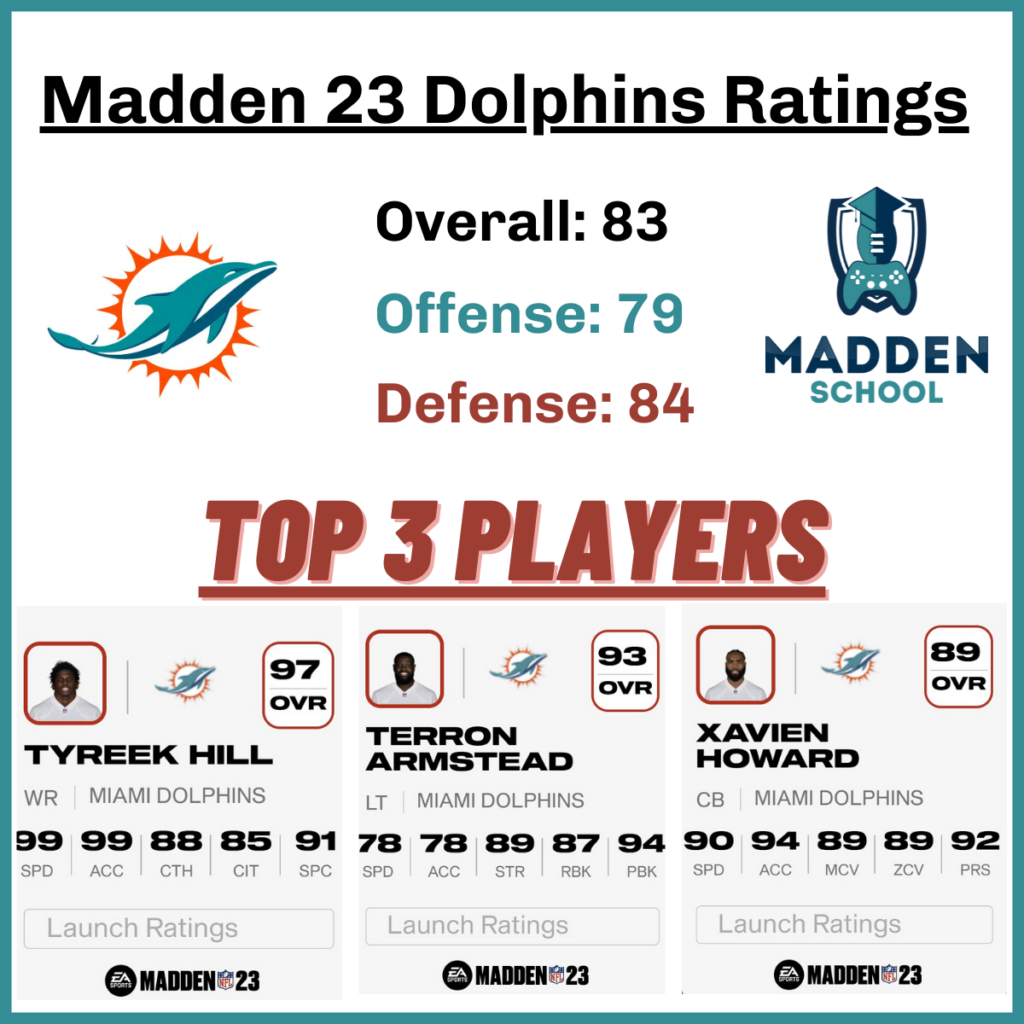 The top reason any will choose the Dolphins is franchise mode is speed at the offensive skill positions. You get 2 of the top 5 most dangerous receivers in all of Madden 23 in Tyreek Hill (99 speed) and Jaylen Waddle (97 speed).
You pair that receiver combination with the fastest running back in the game, Raheem Mostert (95 speed), and a good TE in Mike Gesicki (86 overall) and you are 1 quarterback away from the most explosive offense in all of Madden.
The glaring weakness for the Dolphins is at quarterback. You can take your choice between Tua Tagovailoa (75 overall, 86 throw power) and Teddy Bridgewater (75 overall, 86 throw power) but neither of them are the long term solution. They just don't have the throw power to properly take advantage of the speed at WR.
The Dolphins' defense is solid with the strength being in the secondary. Xavien Howard (89 overall) and Byron Jones (87 overall) will do a good job of slowing down opposing WRs, while Jevon Holland and Eric Rowe help out at safety.
#16 Las Vegas Raiders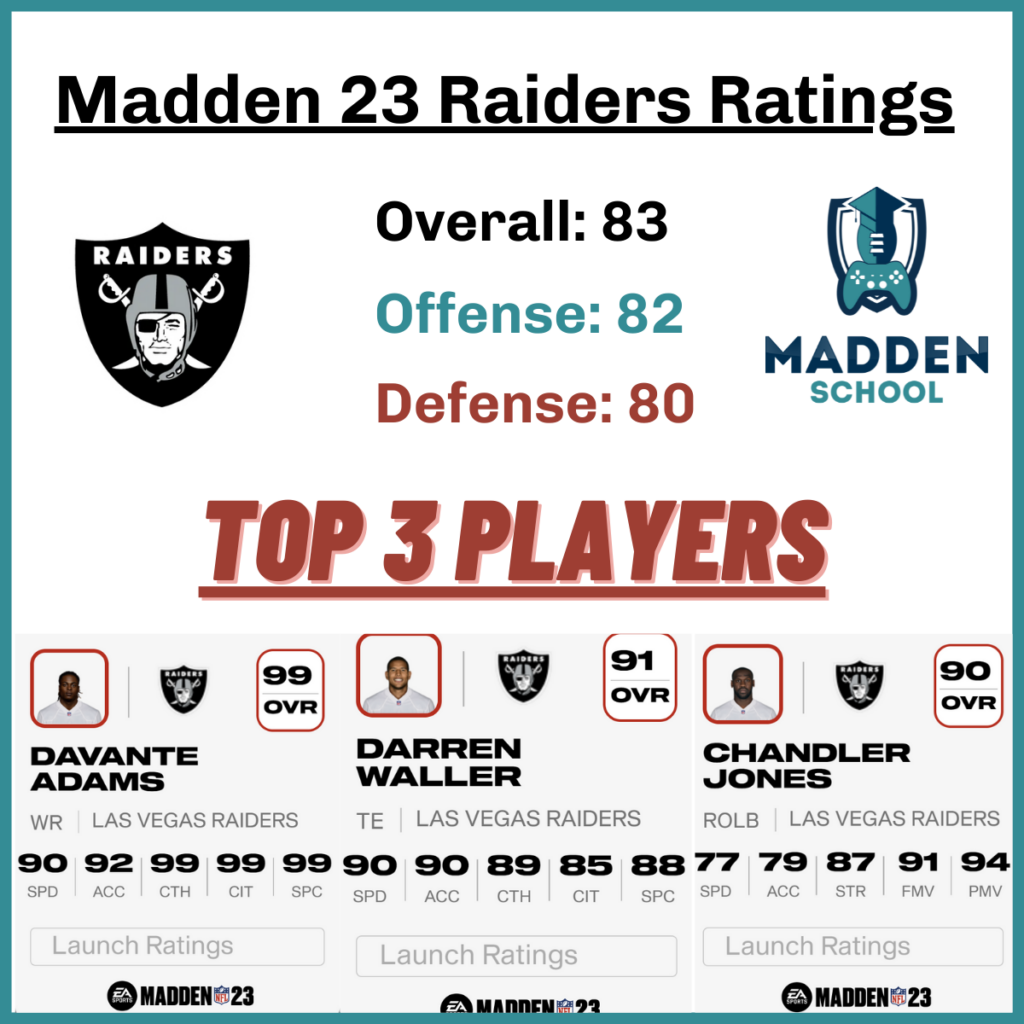 The Raiders are a great team to take if you only see your franchise going 4-5 seasons. Davante Adams has basically a 99 rating in everything except speed (90) but his superstar abilities should help him get separation.
Darren Waller is still the most dangerous tight end in Madden, and Josh Jacobs can get the job done in short yardage situation.
The Raiders have a solid team all around. Their weakness is a lot of their good players are in that 28-30 years old range where they aren't young enough to have much trade value, but aren't old enough to retire.
The defense is solid with the strength being pass rush. Chandler Jones and Maxx Crosby pairing up will cause problems for your opponents while you develop some of the young players in the secondary.
#17 New Orleans Saints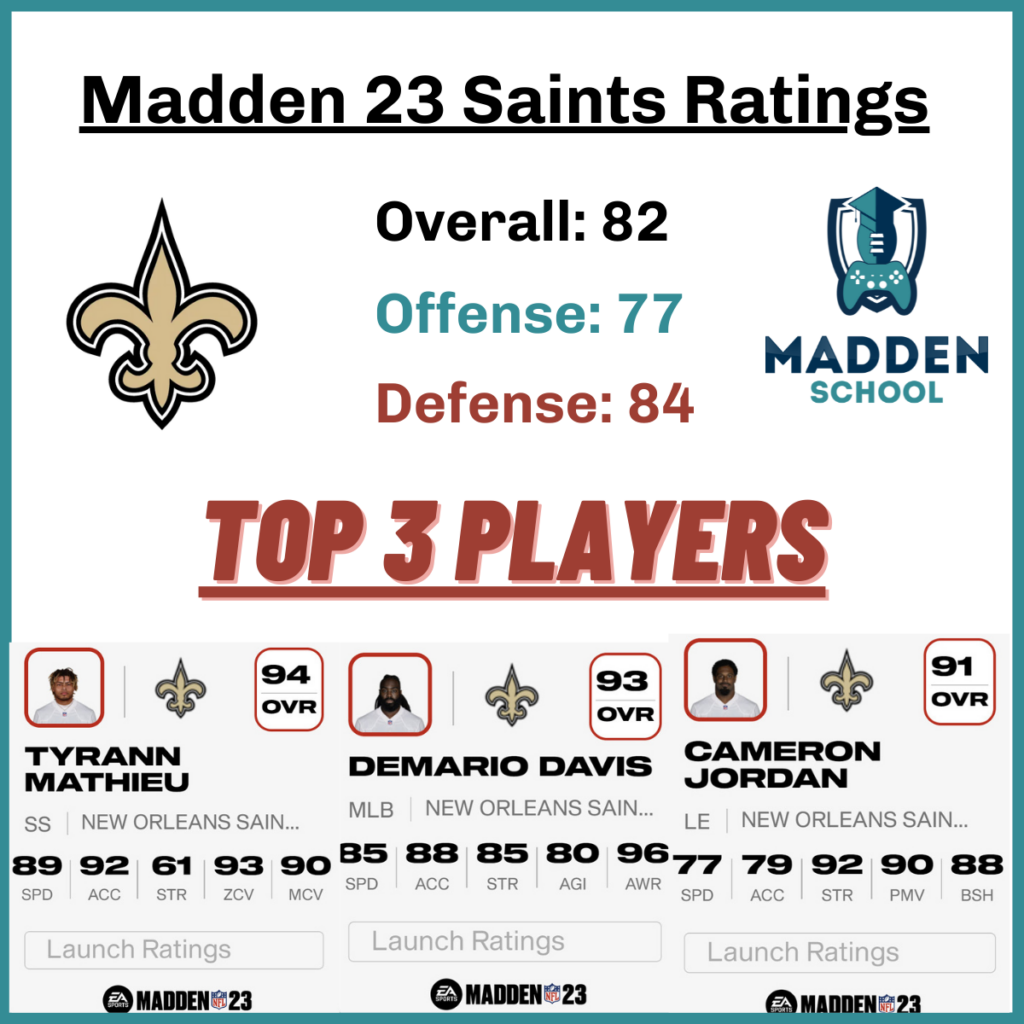 The Saints are a classic example of a really good NFL team that just doesn't translate all that well into Madden. They've got good players at most important positions, but they don't have the speed to be considered a top team.
Alvin Kamara (89 speed), Michael Thomas (87 speed), and Jarvis Landry (88 speed) would normally form a really dangerous offense but their speed ratings hold them back. You'll want to try to trade Kamara and Thomas as early as you can to maximize the value you get for them.
You'll want to spend your time developing rookie WR Chris Olave (76 overall, 93 speed). Within a few seasons, he should become a top WR in your league.
The defense thought is why the Saints find themselves in this high in our rankings. Demario Davis (93 overall) is an absolute stud, Cameron Jordan (91 overall) is a great defensive lineman, Tyrann Mathieu (94 overall) is the highest rated safety in the game, and Marshon Lattimore (91 overall) is a shutdown cornerback.
If you want a dominant defense while you rebuild your offense, the Saints are a great pick.
#18 Denver Broncos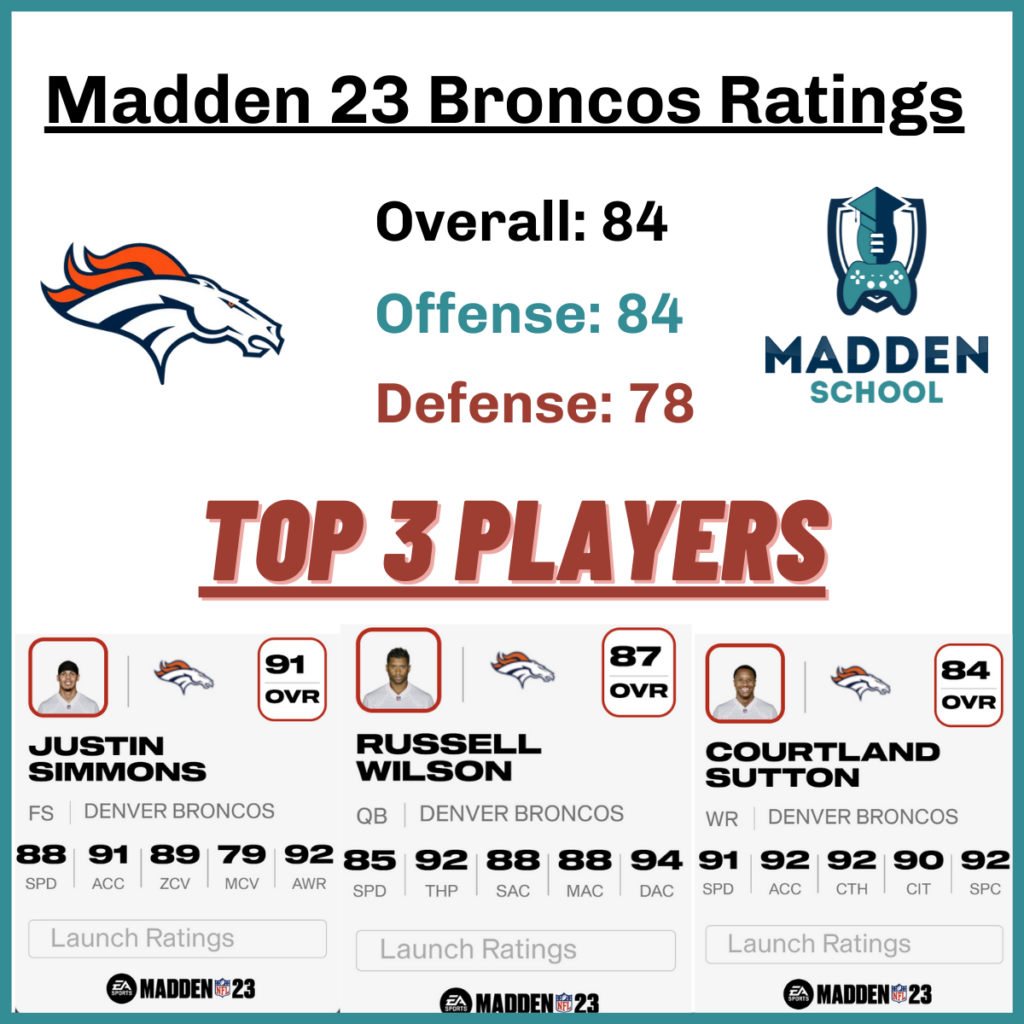 The Denver Broncos are a classic example of a team that might fly under a lot of people's radar but could end up being a really dangerous Madden 23 team, in the right owners' hands.
Russell Wilson is of course the big draw. Yes he is 33 years old, but you still should easily get 4-5 seasons out of him so age shouldn't concern you too much. Having that franchise QB on your team can really make things easier.
Then you have a bunch of skill position players you can develop including WR Jerry Jeudy (82 overall), WR K.J. Hamler (75 overall, 94 speed), and TE Albert Okwuegbunam (74 overall, 88 speed). All 3 of these guys have the raw ability needed to become superstar players, they just need that extra push.
On defense, the big piece is Patrick Surtain II (83 overall, 93 speed). Don't let that low rating fool you though. This is a franchise cornerback that will be 95+ overall in a few short seasons.
FS Justin Simmons (91 overall) can also make an impact on defense but outside of that, you'll have to build this Madden defense from the ground up.
#19 Indianapolis Colts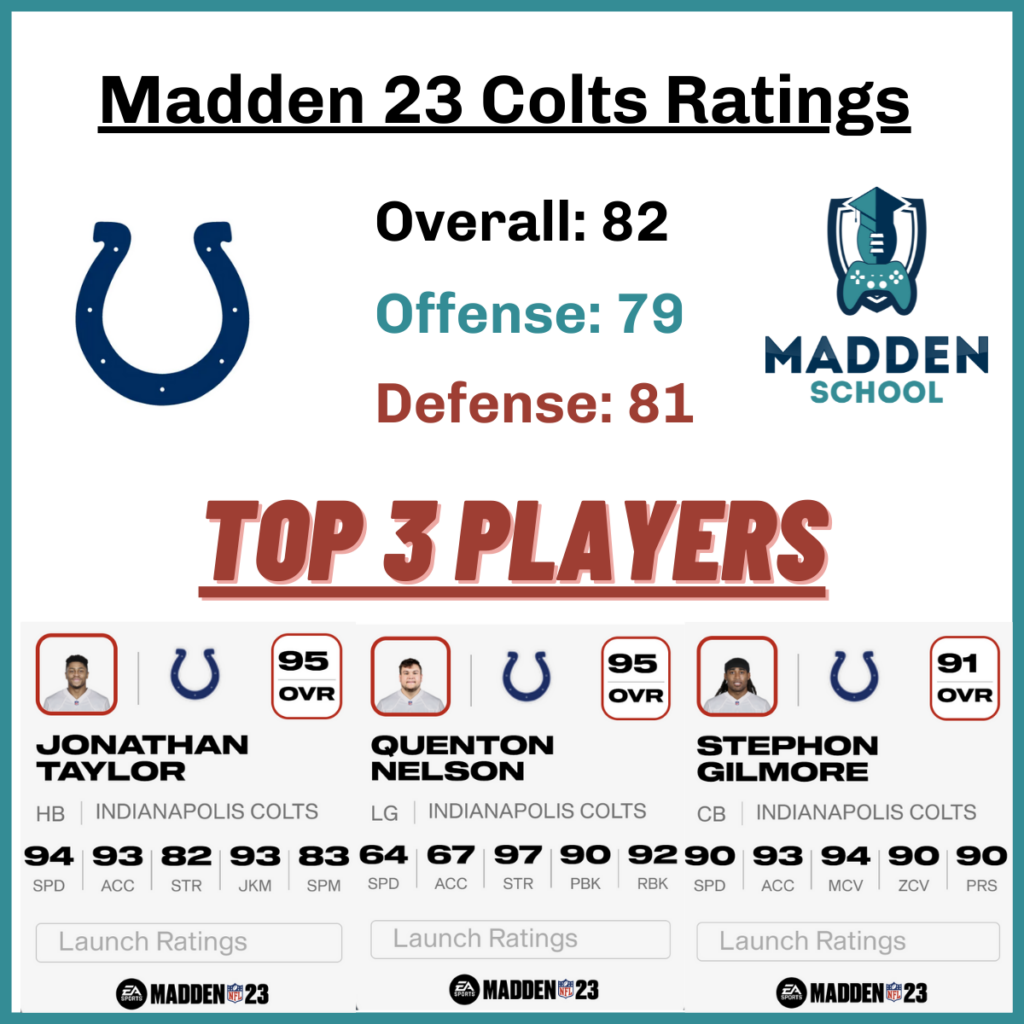 The Colts are another club that we have rated solidly as a mid-tier team. They have a few really nice players but they won't be a team people in your franchise are fighting over.
Jonathan Taylor should be the most valuable running back in the entire game due to his overall rating (95), his speed (94), and his age (23). As long as you pay him and your franchise doesn't go 10 seasons, you will always have a dominant running back on your team.
The defense has a solid core with Darius (Shaquille) Leonard, DeForest Buckner, and Stephon Gilmore all rated in the 90s.
RE Kwity Paye, CB Isaiah Rodgers, and Nick Cross are 3 guys on defense who you will want to try to progress right from the jump.
#20 Washington Commanders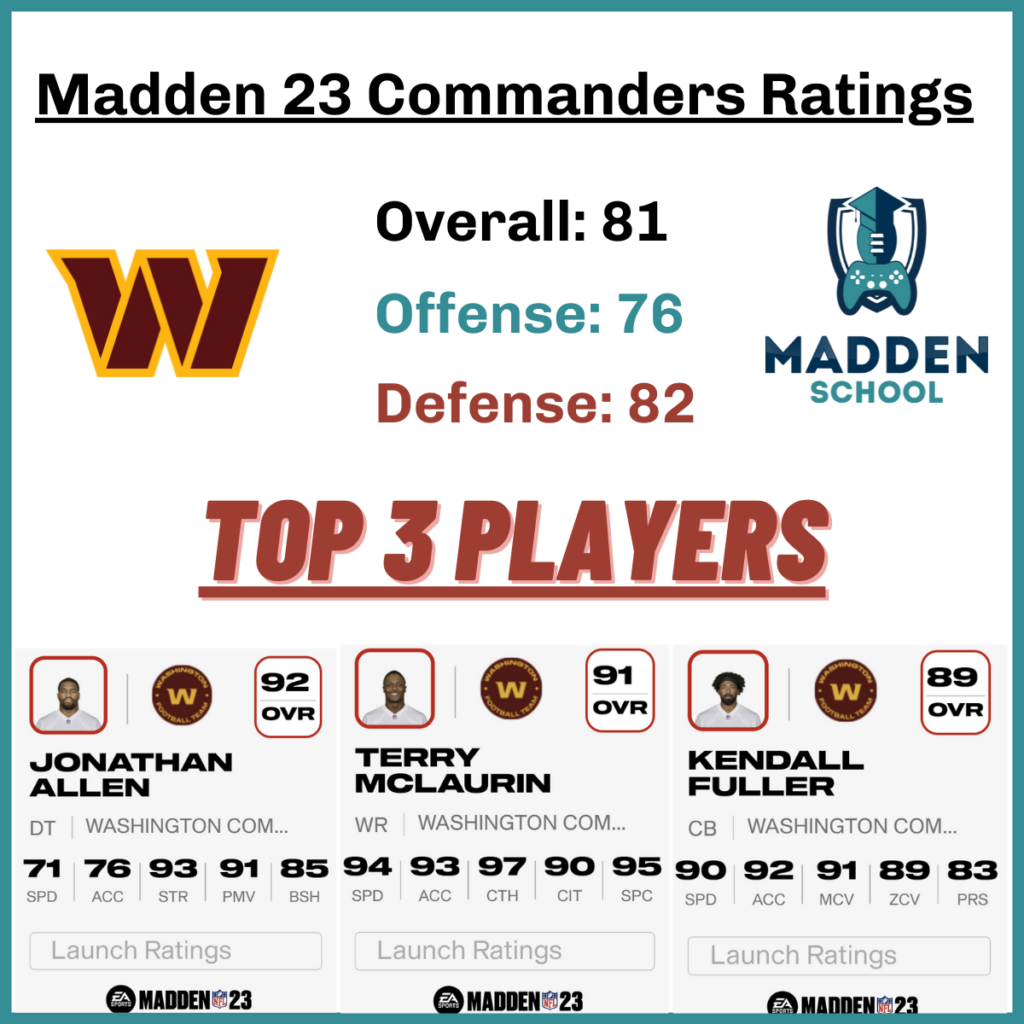 The Washington Commanders have one of the best young defenses in Madden 23 but their quarterback and running back situation is so bad they fell down own rankings.
Taking a look at the offense first, you find yourself in a tough situation needing to draft/trade for a quarterback, a running back, and a tight end. The Commanders have no good options at those positions for Madden purposes outside of developmental QB Sam Howell (67 overall, 93 throw power, 82 speed) who you'll definitely want to start over Carson Wentz).
However, the bright spot they do have on offense is at receiver. Terry McLaurin (91 overall, 94 speed) is an established elite receiver. WR Curtis Samuel (78 overall, 94 speed, 25 years old) is just barely young enough where you still might have time to turn him into a dangerous receiver, and rookie Jahan Dotson (75 overall, 92 speed) should be fairly easy to develop into a playmaker.
The Commanders' defensive line is scary with DTs Jonathan Allen (92 overall), and Da'Ron Payne (87 overall). Pair them with defensive ends, Chase Young (86 overall) and Montez Sweat (80 overall, 91 speed) and you can see why this group is so scary.
If you are able to find or trade for a young quarterback to develop in Madden 23, the Commanders could be a great options for you.
#21 Philadelphia Eagles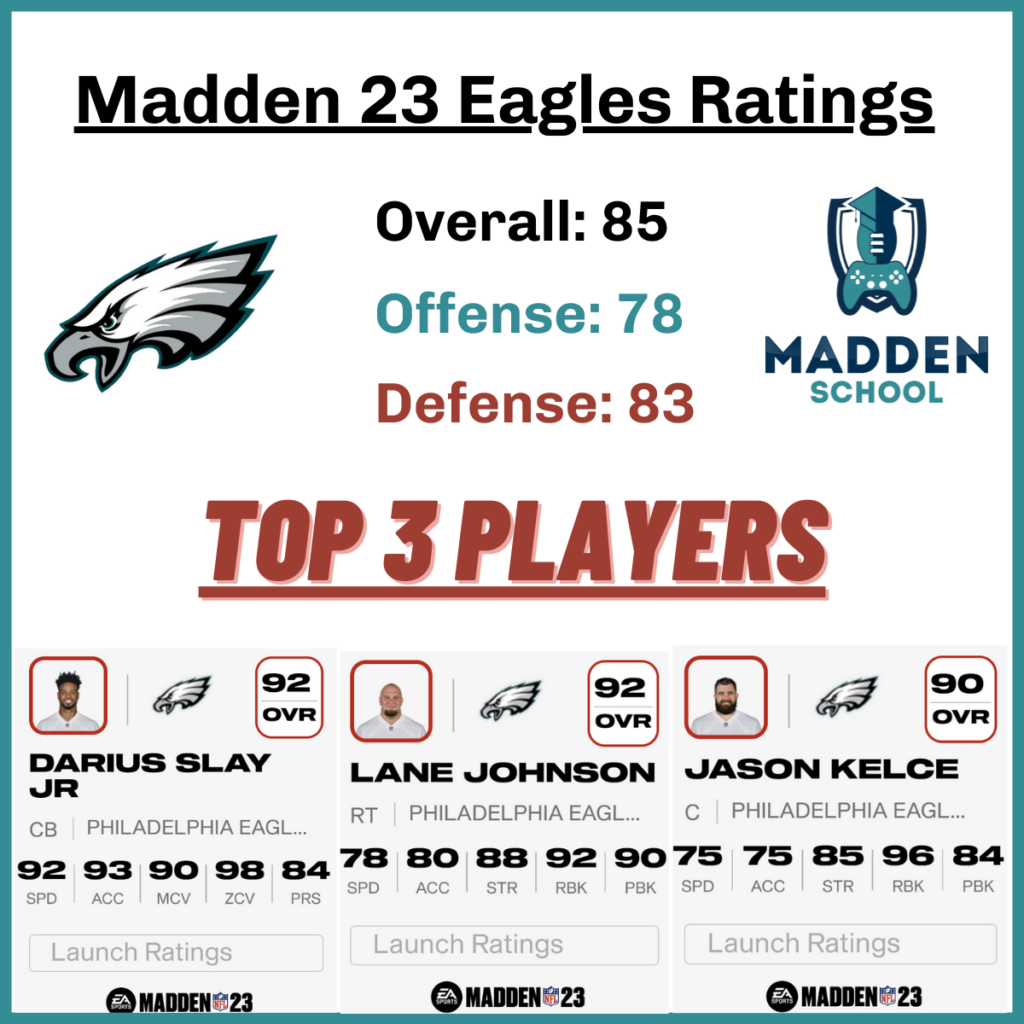 The Eagles are a decent Madden 23 team. No glaring weaknesses and no glaring strengths. A lot of the team is aging but with their excellent 2022 draft picks, they have some young guys who can easily become future stars.
Rookie DT Jordan Davis is about the closest thing to a young Aaron Donald that you will ever see in Madden. He comes in with 80 speed, 87 acceleration, 96 strength, and an overall rating of 78. Expect all of those to go up by the time you are done developing him. He'll be a 95+ overall player by season 3.
Rookie LB Nakobe Dean will also be a force in a few season's time. He comes in with a 71 overall rating but 89 speed and 92 acceleration. If you user him on defense, you should have no trouble developing him.
On the offensive side of the ball, they have solid players everywhere but no one truly game-changing. Jalen Hurts, Miles Sanders, A.J. Brown, Devonta Smith, and Dallas Goedert aren't going to strike fear into any of your opponents' hearts (although they are all good players).
The guy you'll really want to focus on developing is WR Quez Watkins (76 overall, 98 speed).
Some of the older guys on defense like Darius Slay and Fletcher Cox can still make an impact for a couple seasons too.
You also should have the Saints' 1st round pick in the 2023 draft (in addition to your own) which is really valuable in a franchise.
#22 Minnesota Vikings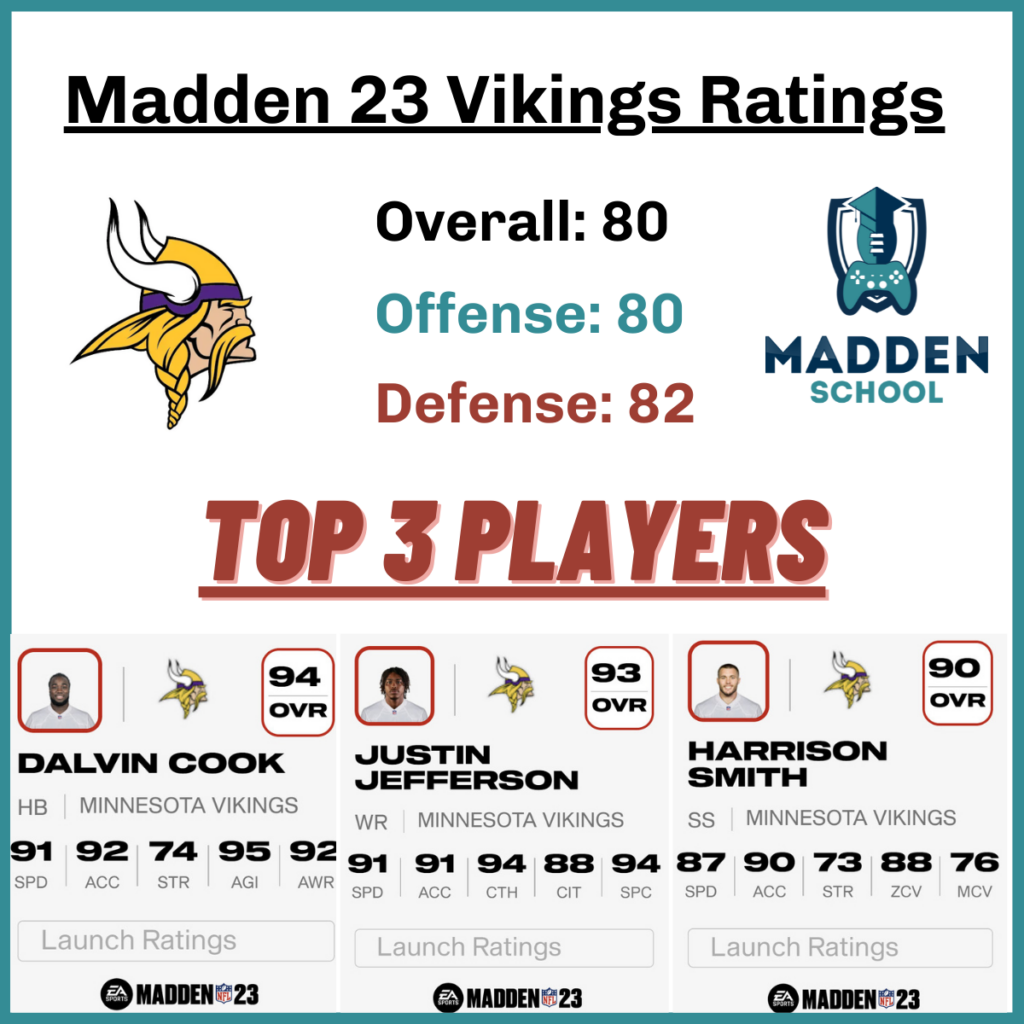 The theme of the late teen/early 20s on our list continues with the Vikings. They are a decent team but they are starting to get a little old which makes them difficult to use in franchise mode.
HB Dalvin Cook, WR Justin Jefferson, and DE Danielle Hunter are still relatively young but just about everyone else is 30 years old or quickly approaching it.
Harrison Smith, Adam Thielen, Eric Kendricks, Za'Darius Smith, Kirk Cousins, and Patrick Peterson are all good players but none of them hold much trade value.
Rookie FS Lewis Cine is an absolute beast though. He comes in as a rookie at 75 overall and 6'2″ with 93 speed, 95 acceleration, and 89 hit power. You should easily be able to develop him into one of the best user defenders in the entire league.
#23 Pittsburgh Steelers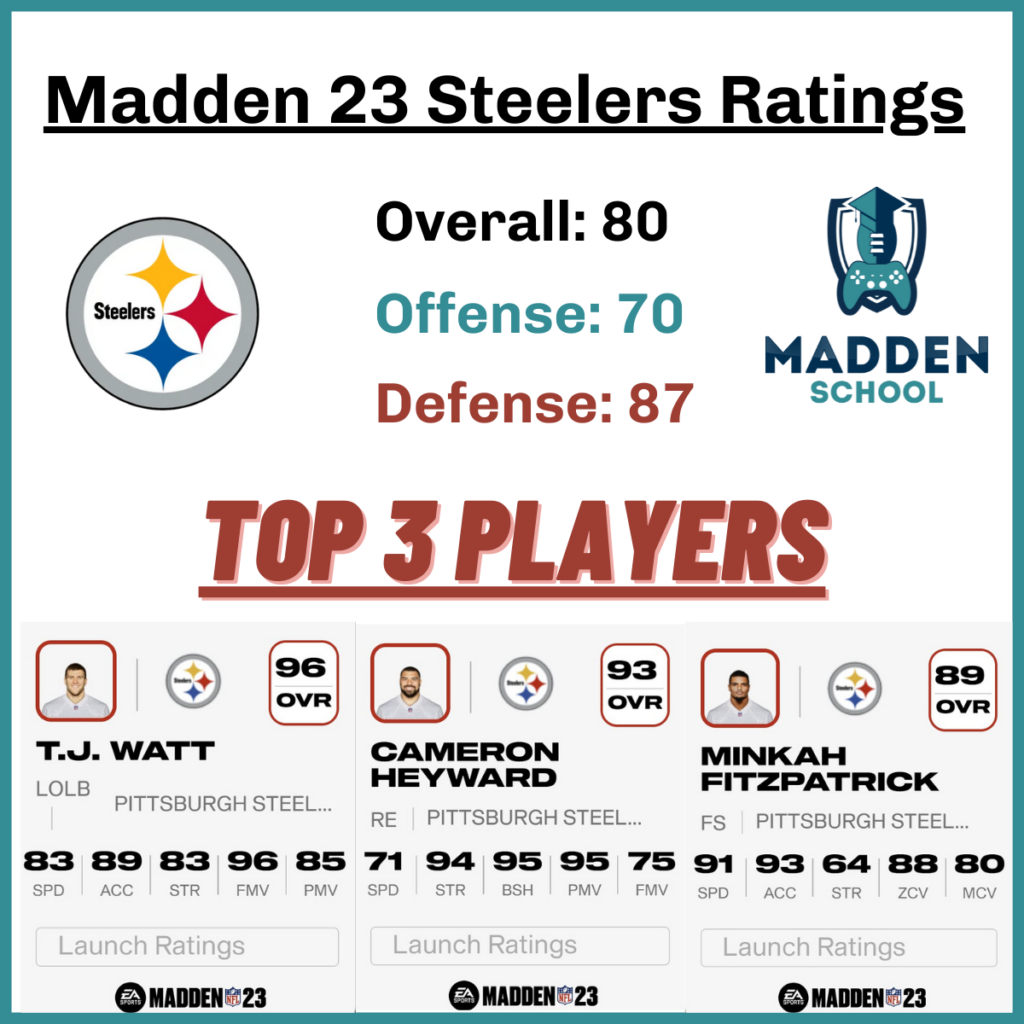 The Steelers are purely a defensive team in Madden 23. They used their 1st round draft choice on Kenny Pickett who unfortunately is this season's Madden equivalent of Mac Jones. He may have a good season but Madden will never respect him enough to give him good throw power (86).
The fact that their rookie franchise quarterback is unusable really drops the Steelers down further than you might expect on our list. T.J. Watt, Minkah Fitzpatrick and Cameron Heyward are 3 of the best players in Madden 23 at their positions.
The addition of Myles Jack to the defense makes them immediately one of the best in the game. Young guys like Terrell Edmunds and Devin Bush should progress into superstars as well.
Najee Harris is a good running back between the tackles but his lack of breakaway speed (88) really hurts his trade value.
WR Chase Claypool is the guy you will want to focus on spamming early on. He has incredible potential to become a dominant Madden receiver.
#24 Jacksonville Jaguars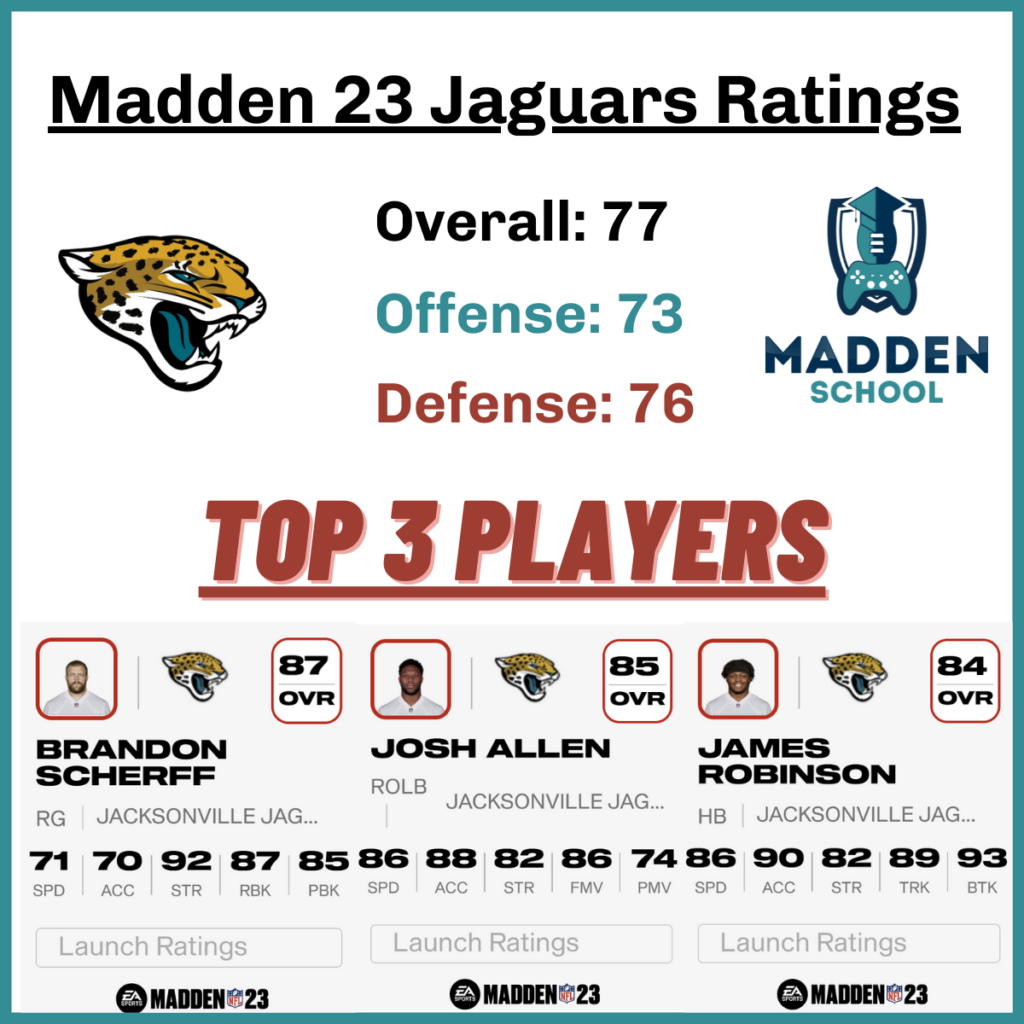 The Jacksonville Jaguars are higher on this list than many might expect but it is for good reason. What they lack in overall rating, they make up for in a roster filled with talented young guys under 24 years old.
Trevor Lawrence has all of the potential in the world to become a franchise QB in Madden with his 84 speed, 88 acceleration, and 91 throw power ratings (76 overall). Those should all go up with any sort of sustained progression.
2nd year running back Travis Etienne is a prototypical Madden running back who is still young enough to develop into a beast (77 overall, 92 speed, 94 acceleration).
The Jaguars also have some other young guys with tons of potential like: Josh Allen (OLB), Travon Walker, Tyson Campbell, Devon Hamilton, Devin Lloyd, K'Lavon Chaisson and Andre Cisco.
The Jaguars may be a steal at pick #24.
#25 Detroit Lions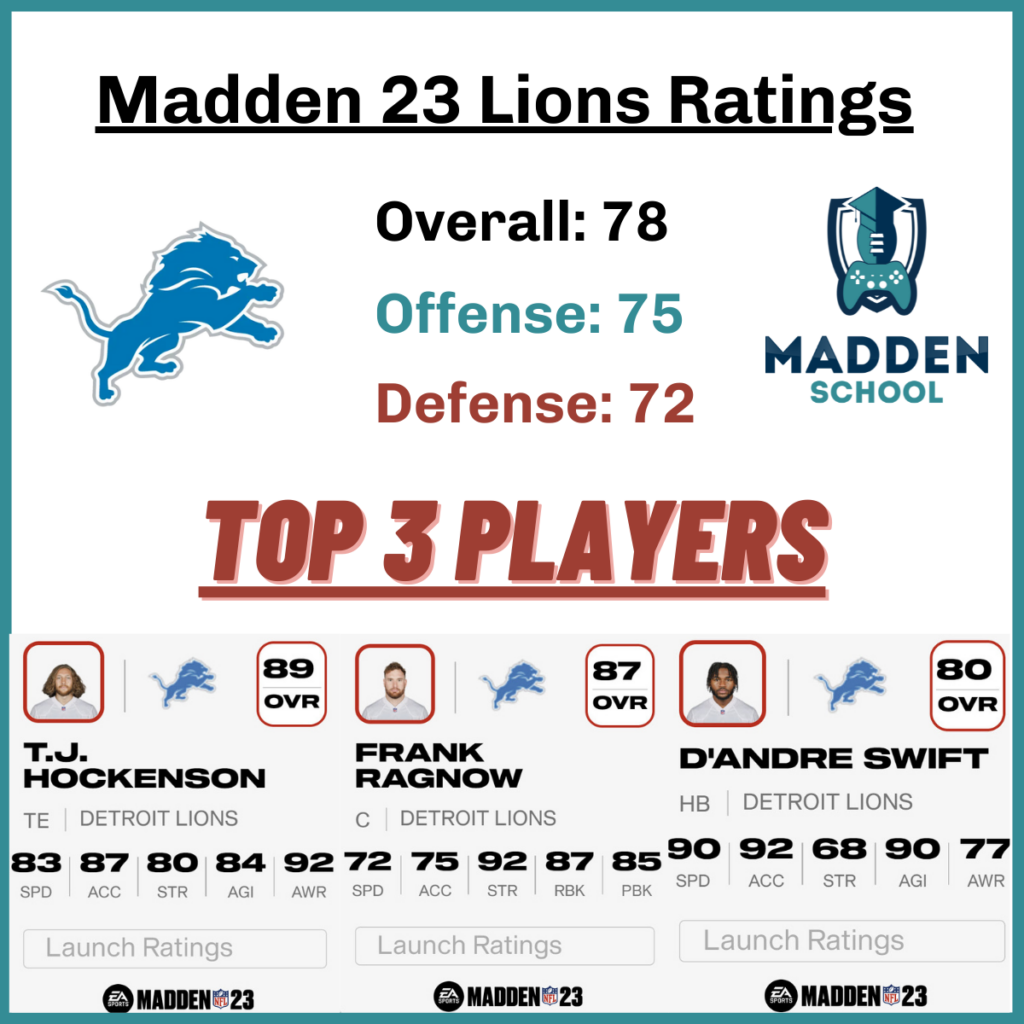 The Lions at first glance might appear to be a bottom 3 team in this year's game but they have a few guys that could hold significant trade value if developed properly.
The main reason anyone is going to choose the Lions is for rookie WR Jameson Williams. He is only 21 years old, 78 overall, and 98 speed. That's basically a guaranteed Tyreek Hill clone in 2 years. His value alone is incredible.
You also have D.J. Chark who is just on the borderline of whether or not you can properly develop him but his 6'4″ height and 94 speed will make him dangerous either way.
T.J. Hockenson is an elite tight end, and DeAndre Swift is a nice young running back that should only continue to get better.
The defense leaves a lot to be desired since #2 overall pick Aidan Hutchinson only has 81 speed and 77 overall but he will no doubt turn into a T.J. Watt-like pass rusher in time.
Any team whose 3rd highest rated player is 80 overall is going to struggle to find an owner but the Lions really aren't as terrible as they might initially look.
#26 Seattle Seahawks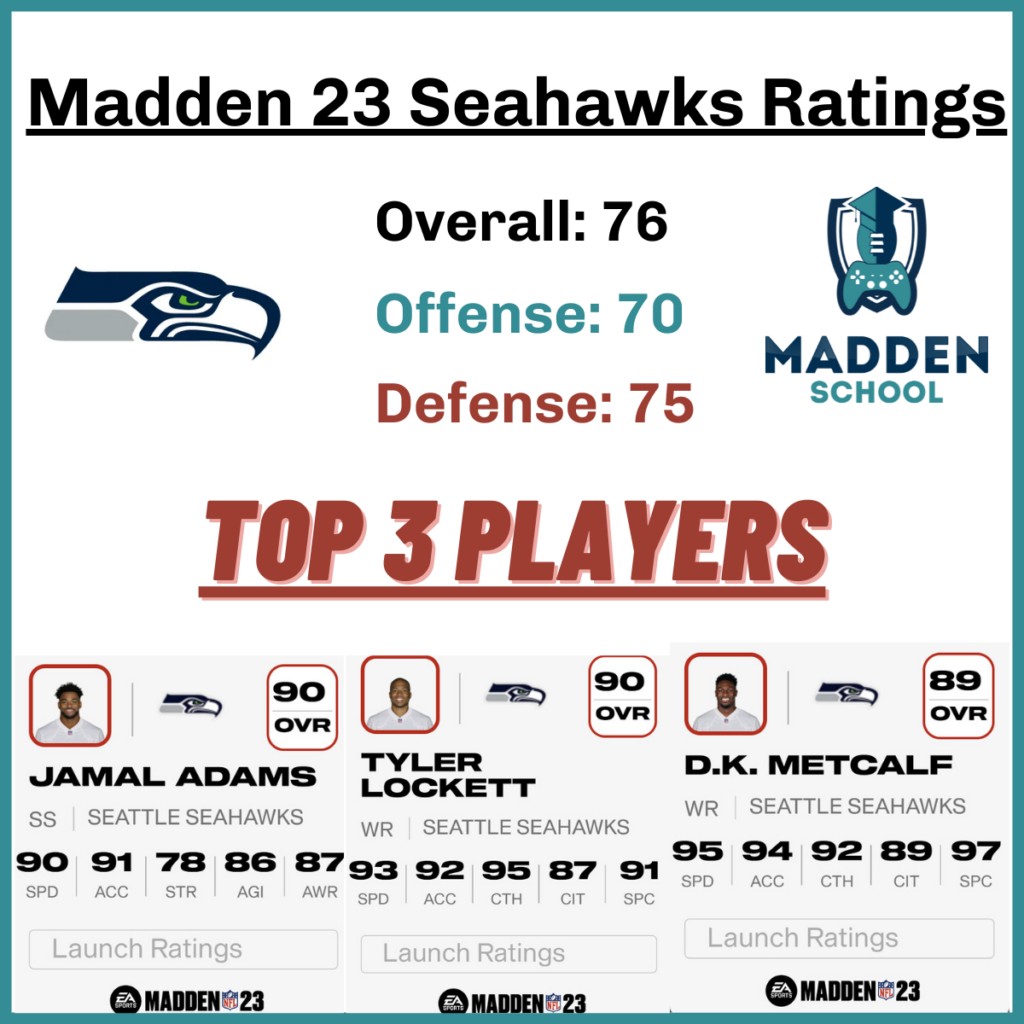 The Seahawks offense can be scary in the right hands. D.K. Metcalf is the obvious reason anyone is going to take them but then you add in HB Kenneth Walker, and TE Noah Fant and you have the potential for really excellent skill players in a couple years.
WR Tyler Lockett (93 speed) and WR Maquise Goodwin (96 speed) are a little older but should be able to keep the defense from completely keying in on D.K. Metcalf.
The glaring issue here is lack of quarterback. When your starter at the most important position in Madden is only a 66 overall, you may not be able to effectively get the ball to your playmakers.
On the defensive side of the ball the Seahawks have SS Jamal Adams and bunch of role players. Pass rushers are more important than ever and the Seahawks just don't have any good ones.
The sleeper to develop on the Seahawks is rookie CB Tariq Woolen. At 6'4″ and 97 speed, you will either want to trade him (for a lot) immediately to someone who sees his potential or user him on defense and focus on progressing him yourself.
One issue to be aware of is the Seahawks are in one of the best divisions in Madden 23, the NFC West. You'll have to play 3 really good teams twice a year and that can be difficult when you are in full rebuild mode.
#27 Atlanta Falcons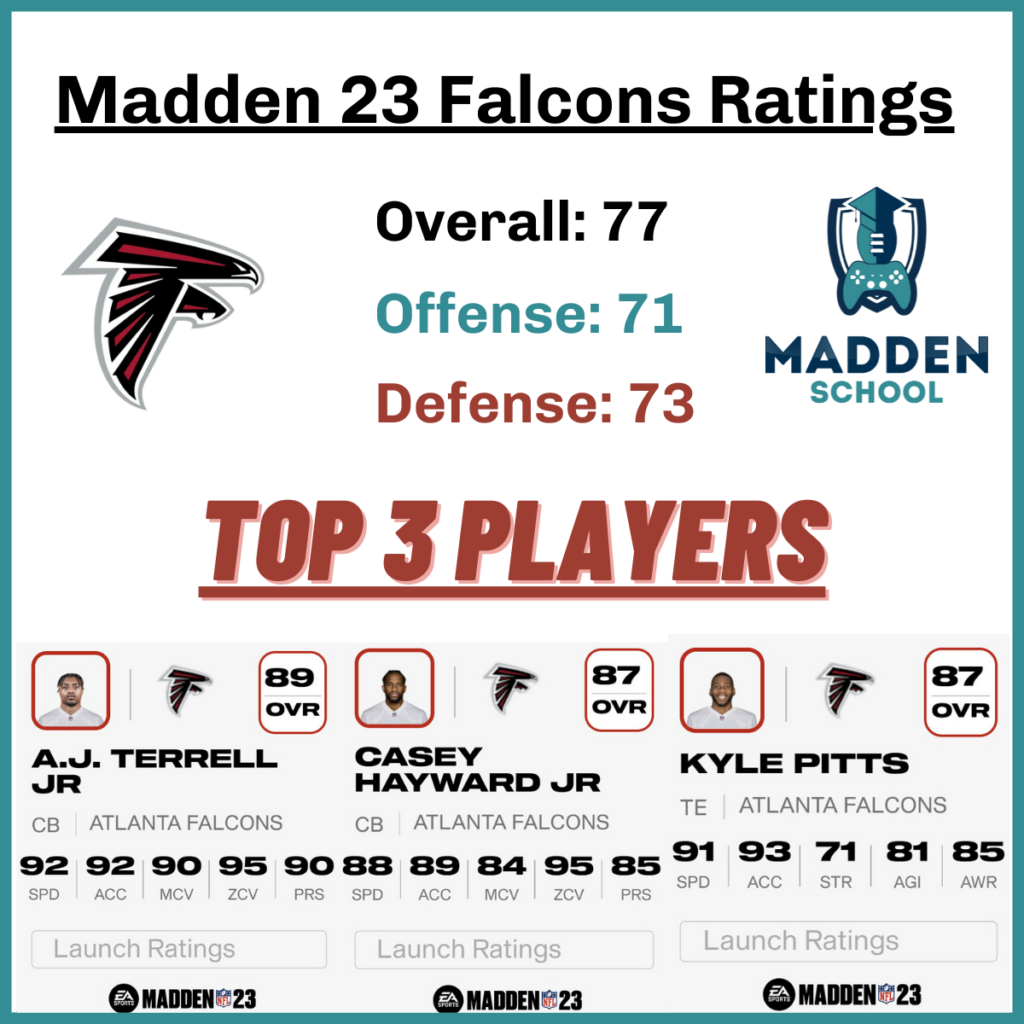 The Atlanta Falcons are probably the last team on this list that has at least a few players to work with. A.J. Terrell and Kyle Pitts are 2 young beasts who are incredibly valuable.
You also have veterans like Casey Hayward, Calvin Ridley, Cordarrelle Patterson, Grady Jarrett, and Deion Jones who can all give you a few years of solid play.
QB Desmond Ridder is the big wild card with this team. His 88 speed and 91 throw power are both pretty good but neither one is at a level where it will scare your opponents. If you can get lucky with a few speed points and throw power points in progression, that changes things but it is hard to bet on that.
The rest of the players on the Falcons really don't have much to offer when it comes to Madden 23.
#28 New York Jets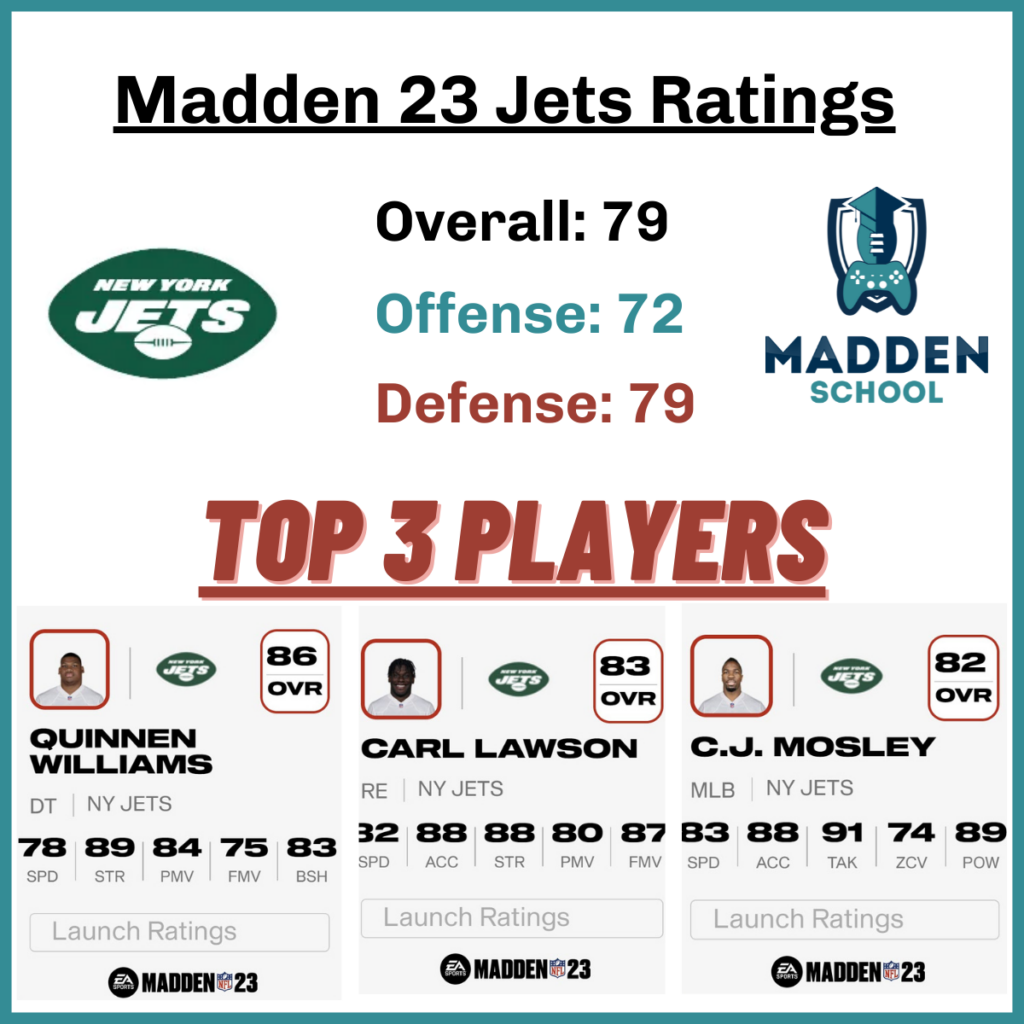 The New York Jets don't have anyone that you could see truly turning into the best player at their position, but they have a few guys who with the right development could become relatively dangerous.
Rookie CB Sauce Gardner has very high potential coming in with a rating of 78 overall and 92 speed. HB Breece Hall (76 overall) and WR Garrett Wilson (76 overall) could also develop nicely in the right system.
2nd year QB Zach Wilson has a long road ahead of him with a 73 overall rating but he does have 94 throw power so in the right hands he could become decent.
Other than those young guys and a few veterans like Quinnen Williams, Carl Lawson, and C.J. Mosley, you don't have much to use with this team.
#29 Chicago Bears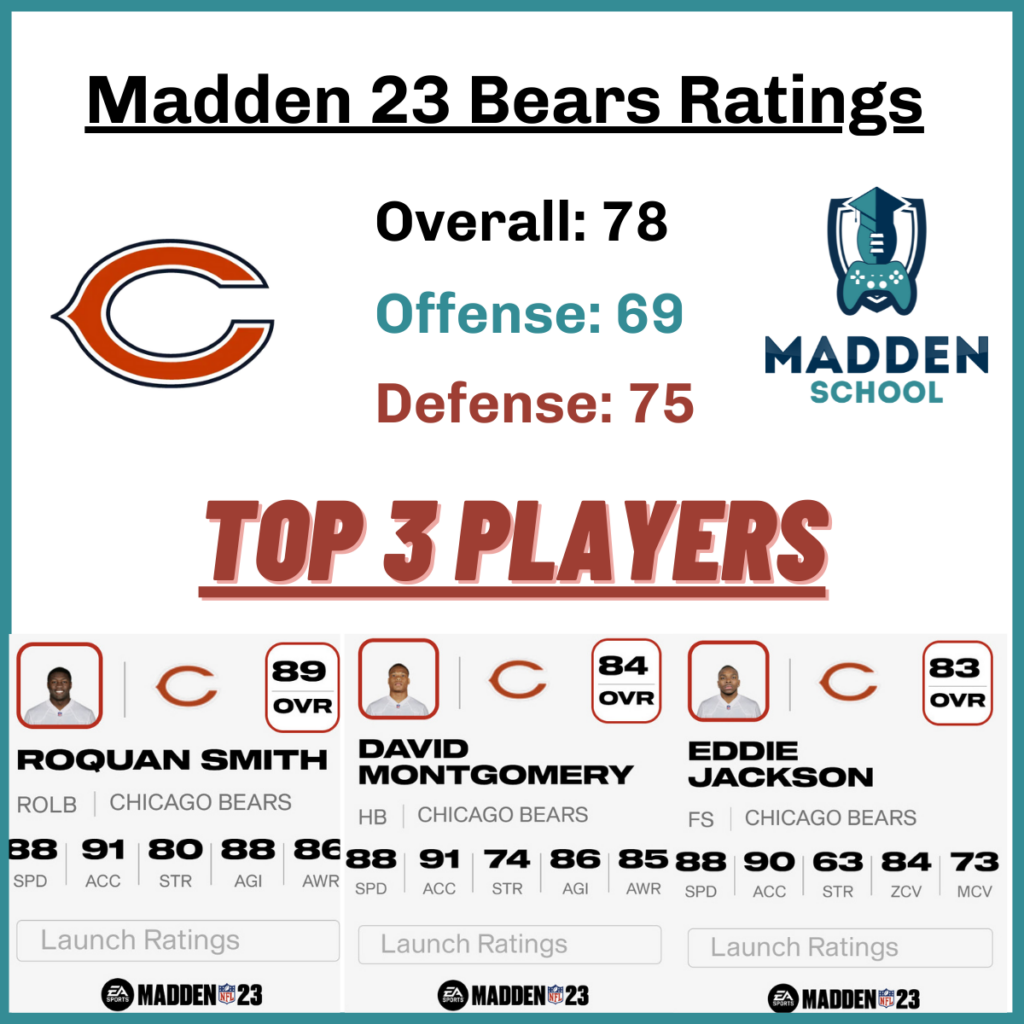 The only reason to ever take the Bears in franchise mode is to get Justin Fields. A 23 year old QB with 90 speed and 92 throw power is worth at least a couple 1st round picks in any franchise.
The rest of the team, however, is a full rebuild. Outside of MLB Roquan Smith there isn't anyone on this team who has any value in Madden 23.
If you take the Bears, you are betting it all that you can develop Justin Fields. If you aren't able to, you'll really struggle to have any success in your league.
#30 New York Giants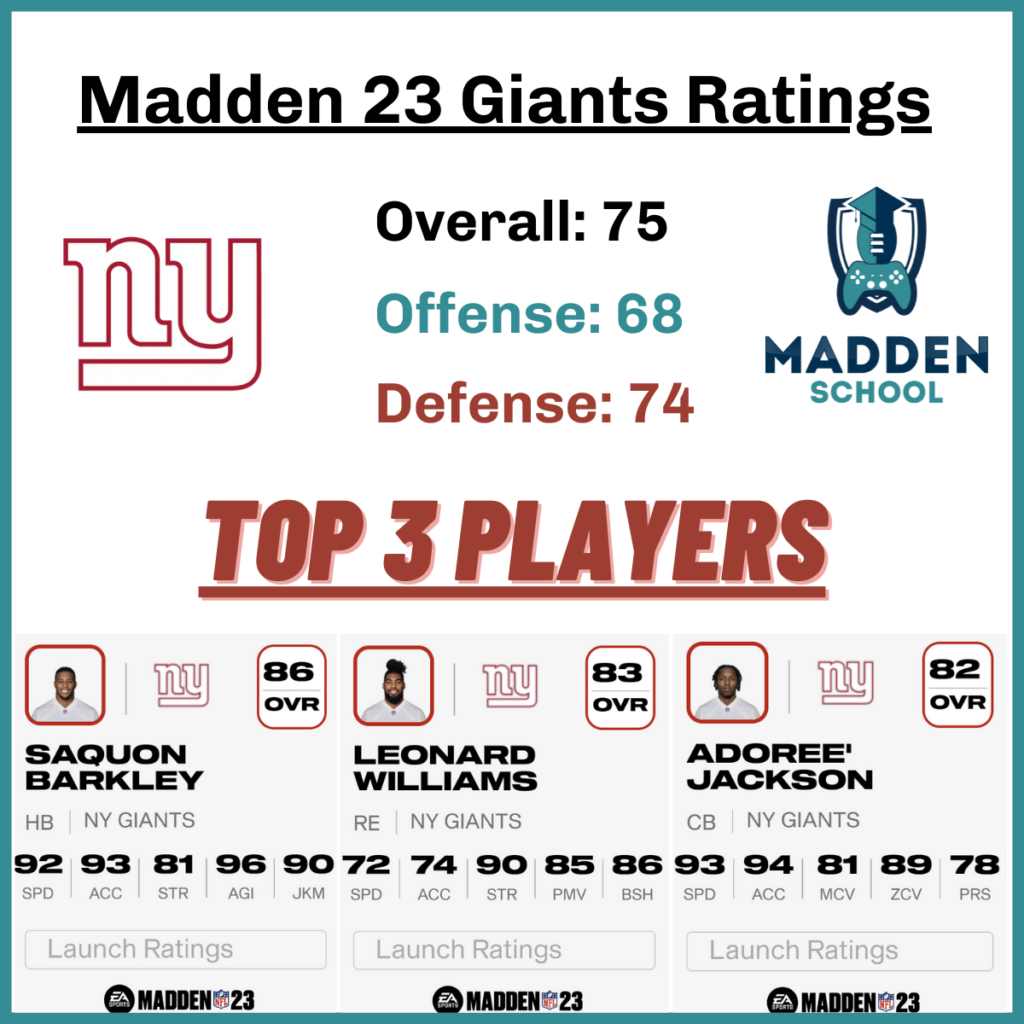 The Giants have a few trade pieces but this team is in full rebuild mode. Saquon Barkley is still a pretty effective running back in Madden even though he is starting to get older (25 years old).
ROLB Kayvon Thibodeaux (75 overall) and WR Kadarious Toney (79 overall) are the 2 young guys you'll probably want to keep on your team and develop.
The Giants are a great team to a full franchise rebuild with.
#31 New England Patriots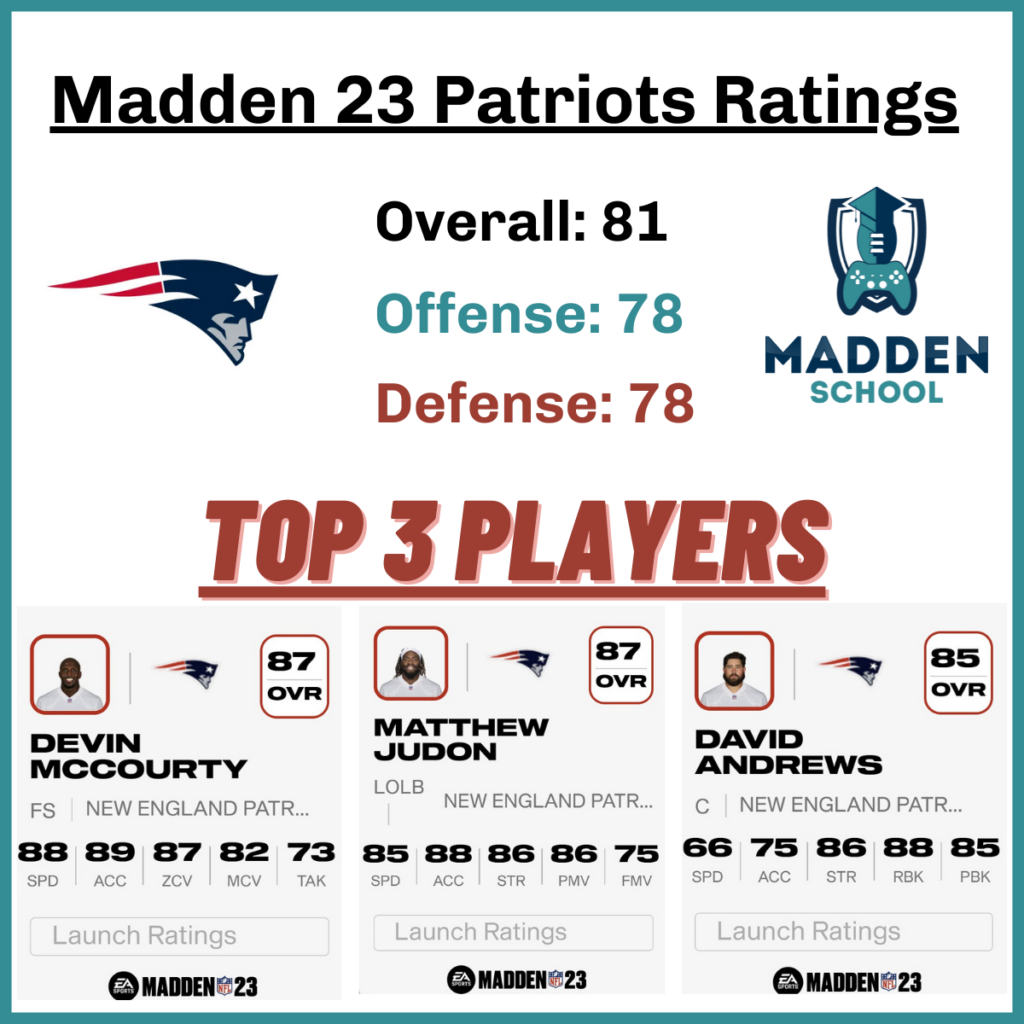 The Patriots have mediocre players at every position. These players aren't necessarily bad but at the same time, owners in your league won't exactly be hitting you up with trade offers.
This team is filled with Bill Belichick type players. Aged 27-34, smart but not particularly athletic, and 75-82 overall. Basically the exact opposite of what you would want as a Madden GM.
This is a team you will want to avoid unless you are a Patriots fan.
#32 Houston Texans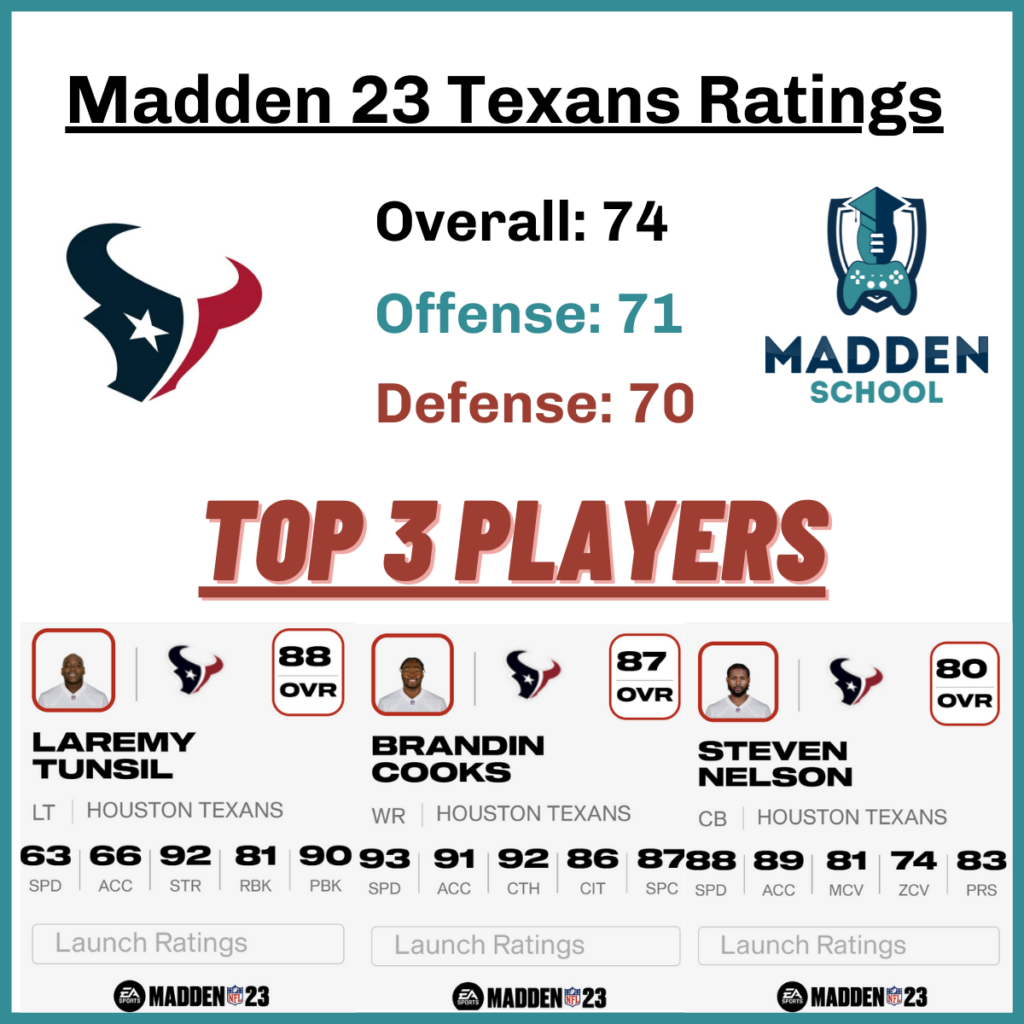 CB Derek Stingley is the one and only reason to take the Texans. He has the potential to be really, really good.
LT Laremy Tunsil and WR Brandin Cooks might get you something in a trade (but don't expect much). The rest of the team is disposable.
The Texans, unfortunately, really don't have much to work with and that is why they are rated at the bottom of our list.
Which teams are overrated? Which teams are underrated? Let us know in the comments!