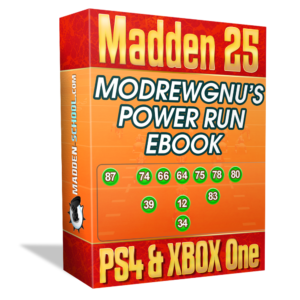 We are pleased to announce the release of our first Madden 25 eBook for PlayStation 4 and XBOX One.  Modrewgnu's Power Run eBook is the exact offense used to propel Madden-School founder, Modrewgnu, to the #1 ranked Madden 25 player on PlayStation 4.
This ebook is by far our biggest ever with 10 chapters and 56 plays all found in the San Francisco 49ers playbook.  It dives into much more detail than any Madden ebook before it.  Not only is it bigger and better than ever, we have also redesigned our ebooks to be more user friendly and easier to view on mobile phones and tablets.  Don't just take our word for it though, we wrote up a sample breakdown with 6 plays in it to show off our new eBook look as we head in to XBOX One and PS4 Madden 25.
The philosophy behind Modrewgnu's Power Run eBook is simple: Jam the ball down your opponents throat.  We have plenty of good passing plays in the ebook as well, but the idea behind the eBook is to help you win more games, not necessarily score 100 points a game.  The way to do that is to control the clock and make your opponent adjust to your power running game.  After all, the offense used in the eBook was created by the top rated player on PlayStation 4.
Here is the list of formations covered below:
Singleback Ace Close
Singleback Bunch
I-Form Pro
Strong Tight Pair
Pistol Full House TE
Pistol Strong
Gun Doubles On
Gun Bunch HB Str
Gun Empty Trey Flex
Various Money Plays
Learn from the best.  Order your eBook today for only $24.99 and get a head start on your competition!

Instant Access! Only $24.99!